As I walked out of the elevator and into the Dataiku offices three weeks ago...
Henri, Telco Account Manager at Dataiku, offered me a nice cup of tea. While sipping on my tea in the company kitchen - where unlimited drinks, fruits, and all types of goodies to reboot the brain are always available - Sonia, Dataiku's Office Manager (whom some also call our Chief Happiness Officer), brought me a brand new MacBook Air – my Dataiku partner in action.
In the meantime, Florian, co-founder and CEO, welcomed me and asked me if my company email account was set up. It was. Jeremy, a Dataiku Marketer turned Data Analyst, had already set everything up – my email, my HipChat account, my Office Suite, and all the logins I'd need to start working immediately.
As I opened my MacBook Air, Jeremy suggested that I download Data Science Studio Community Edition and start the tutorials. Within two hours upon my arrival and with no previous technical experience, sitting comfortably at my own desk with my own big screen, I'd already completed tutorial 1 of 4. I felt like a marketer turned data scientist... well, almost!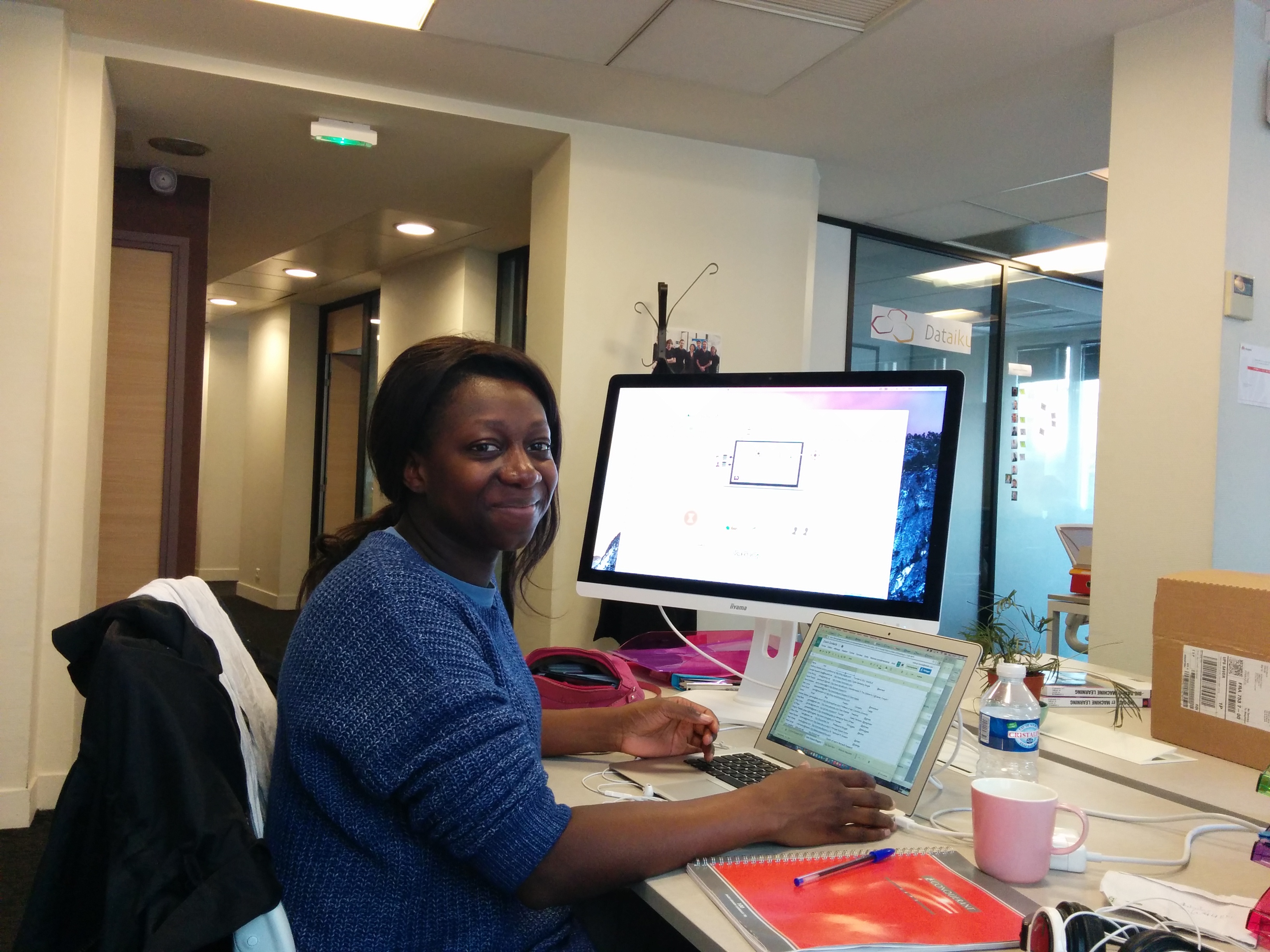 After I was all set up, Pauline, Dataiku's Director of Marketing, and I went over my first missions and the associated timelines… So much to do! It was great – we didn't waste a minute. I started working on my own projects immediately. As the days went on, the pace never slowed down. It's been a totally exhilarating experience ever since.
Doing it! From Visitor to Exhibitor
Less than a week after my arrival, Thomas (who joined Dataiku as a Marketing Intern a day after my arrival), Pauline, and I set off to the Big Data Paris event to set up our stand. For the first time ever, I was no longer a visitor but an actual exhibitor.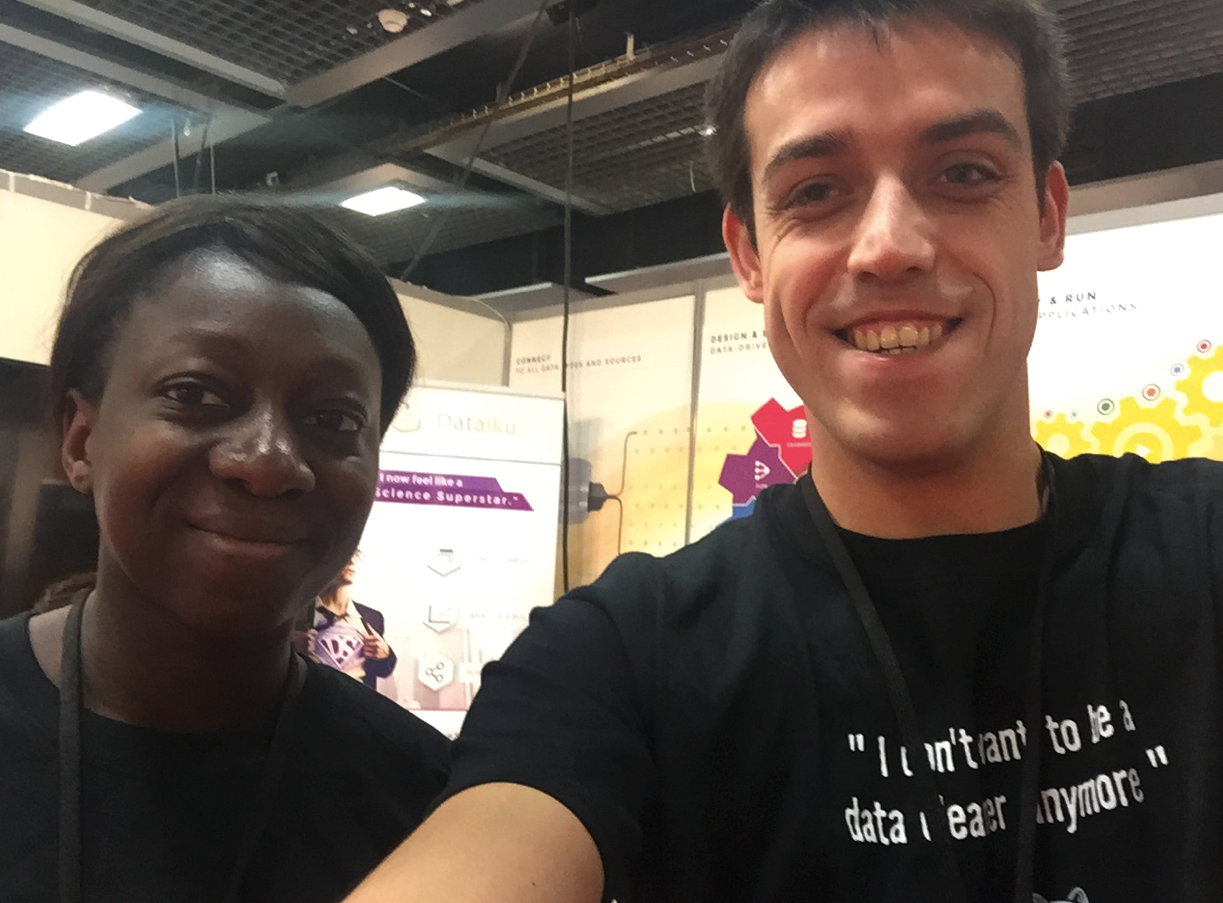 Though a bit intimidating at first, the event proved to be excellent training. Talking to potential clients and competitors, to data novices and experts, attempting to explain not only our product, but also what "Big Data" and "machine learning" really are from my "marketing" perspective, I had no choice but to get my hands dirty and put myself out there. As the minutes flew by, I felt more and more at ease with a subject matter I knew little about only a few days prior.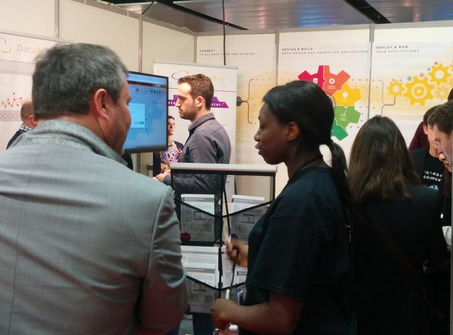 Grasping "Big Data" Business Realities
I've also been working on Dataiku customer success stories – which is another interesting and productive learning approach to grasping how "big data" concretely affects business operations. I've immersed myself in understanding how companies are using Data Science Studio on a day-to-day basis to build data-driven and predictive services such as fraud detection, churn prediction, predictive maintenance, and so on.
And finally, since we use Data Science Studio for our own marketing needs, it makes it much easier to understand and explain the benefits associated with the tool to outside parties. It is the first time in my professional experience that I am actually using the tool that I am involved in selling.
It's exciting to be a part of Dataiku's adventure, especially in such a period of growth and new challenges. Thomas, Pauline, and I work in a trust-based environment, with focus, independence, and flexibility. Everyone is welcoming and young at heart. I'm loving it!
If you think Dataiku could be a place for you, we're hiring - both in Paris and in New York. Check out our job offers here.