This is for you if you are in the process of building a Data Science Lab or if you are already working in one. This 21 page ebook will teach you how to address, avoid, and fix the main challenges that come up in Data Science Laboratory Environments.
Companies that create their own data labs face a number of obstacles as they ramp-up their operations. Many of these challenges are centered on the need for collaboration between IT and Business profiles. Common mistakes, such as using static data or not thoroughly planning a solution's implementation, can trip up a young data lab before it completes its first proof-of-concept. As data labs mature the challenges do not go away, but instead take different forms... such as deciding whether to stick with older technologies (SAS, SPSS) or opt for newer approaches (R, Python, Spark). This ebook aims to address these challenges and offer solutions that are applicable to all data labs, whether they are just starting out or are already established.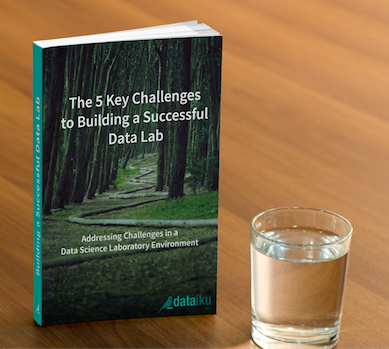 Whether you are just starting or already established, what will you find in this ebook?
This ebook is organised by type of challenge. In each part, you'll find Possible Solutions, some Tips, Decision Points, and a Solution Summary:
1° Time-based Challenges - Or why it's easy to work with old data, but inoperative.
2° Collaboration or Lack Thereof - Or why attempting to collaborate without a common ground is nearly impossible.
3° Skill-set Disconnect - Or how the skills of analysts, developers, and statisticians are mutating. Quickly.
4° Platform Incompatibilities - Or how early miscommunications lead to long-term data incompatibilities.
5° Growth - Or what to do when that unavoidable build or buy decision point comes around.
To download your free copy now, just click here!
We hope you enjoy. If you have any questions or comments, please email me. Last but not least, don't forget to try DSS for yourself. I'd be ready to bet it's just the tool you and your team needs!