We were so happy to welcome our users once again for our 8th Dataiku User Group in Paris on November 24th. We got to talk about all the different aspects of using Machine Learning to gain customers' loyalty, with a tech presentation by our client Coyote, a discussion of use cases from a business perspective, and the training of algorithms in DSS.

Customer loyalty and machine learning
There's so much you can do with your data. One of the use cases that we hear the most about is keeping your clients or users, or in other words preventing them from leaving you. That was the subject of our Eight Dataiku User Group in Paris on November 25th.
So how can you keep users happy with machine learning? Well you collect as much data as possible on your clients- from what they bought, what they didn't buy, to what pages they visited on your site or which of your CRM emails they opened (o the wonder of logs!). You clean all that data and enrich it from as many outside sources as possible, and then you train your algorithms on them, compare them, iterate until you're satisfied and automate the process. Of course, DSS can help you throughout that process (see what I did there!).
And what do you get? A list of which users are most likely to leave you before the thought ever even entered their minds. Once you've got that you can even reach the next level with uplift and get a list of which of your users are most likely not to churn BECAUSE you contacted them (because if Janet in accounting was going to leave your service whatever you did, better not waste any resources on contacting her and risk annoying her further!)
Starting up tonight's user group with a presentation on #CustomerEngagement and #ML! #DUG with @Coyote_Officiel pic.twitter.com/aztsVJlAit

— Dataiku (@dataiku) 25 Novembre 2015
Back to our Dataiku User Group
We started off with a general presentation of our use cases around Customer Loyalty and quickly moved to a great presentation by Florian Servaux from Coyote, one of our favorite clients, about how they use DSS to make sure their customers stay happy.
After that we split up in groups, with some of us discussing Coyote's use case with Florian and Matthieu Scordia (the data scientist who helped set up the project); others working on training their first algorithms on DSS, or working on more evolved features with our rockstar data scientists; and a group discussing use cases and implementation with our coolest business developers.
If you want to be informed of future events, join our Meetup group!
Click on the pic below: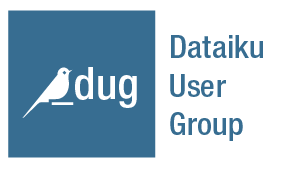 Can't wait to see you at one of our future events!
-Alivia