The third edition of Big Data Paris summit took place on April 1st and 2nd 2014. Big Data Paris is the major French event about the big data ecosystem. Many important companies and talented people were present during these two days. The Dataiku team was there for the second time and it was a great moment for us!
Many visitors came to talk to us at our booth. Marc, Florian, Abboud and I were very happy to answer a large variety of questions and to present Dataiku Data Science Studio (DSS) that helps companies build predictive applications. Some of them were already feeling confident in leading data science projects while some others were just curious about how to start such projects.

In any case, all seemed really enthusiastic when we presented Dataiku (on the big TV screen), and that gave us a strong positive energy to keep building great software. The easy-to-use interactive interface has been a great success. We also heard some really interesting suggestions for new features to bring to the product, thanks for the feedback!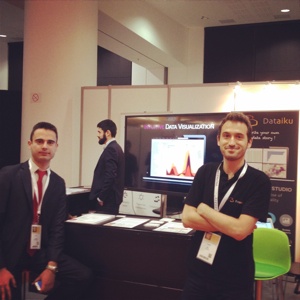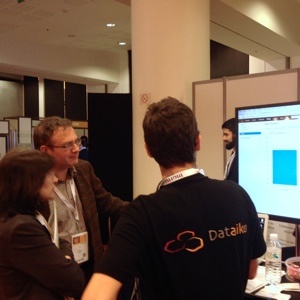 Some statistics

- 500+ visitors to our booth
- 100+ demos
- 6 different stickers available
- 4 Dataiku team members available all day
- 1 big TV screen
- 1 elephant in the trailer (hadoop style)
- 0.9731 is the best Pearson correlation coefficient we got in the demos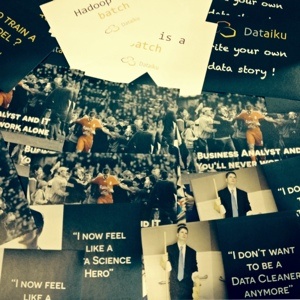 Now that the summit is behind us, remember that you can try Dataiku for free online. We provide you with 3 tutorials to get started and discover how simple it is to create predictive models :

- how to import a dataset, explore it, prepare it for analysis and visualize it;
- how to use advanced processors for data enrichment, and how to create your first Data Flow;
- how to easily create your first predictive model.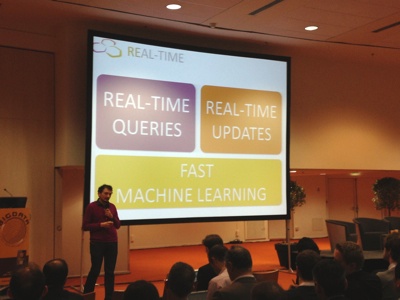 Florian, our CEO, gave a talk on Tuesday about the Hadoop ecosystem. He spoke about the rise of real time and in-memory processing frameworks that complement and supplant the Map Reduce paradigm as of today.

The slides of the presentation are available on Slideshare. If you have any questions, feel free to contact the team by email or on Twitter. Or check out some of the cool projects we've done using Dataiku, like predicting London crime rates or predictng Titanic survivors.
See you all again next year !