The banking and insurance industries have been around as long as civilization itself. Though early forms of course look very different than they do today, even so-called modern banks and insurance as we know it now have been around since the 1600s, shaping the history of humankind. But in the internet age, it's not enough to be the incumbent - you have to be the best.
And that means leveraging data science to harness powerful sets of data to not only keep afloat, but to innovate.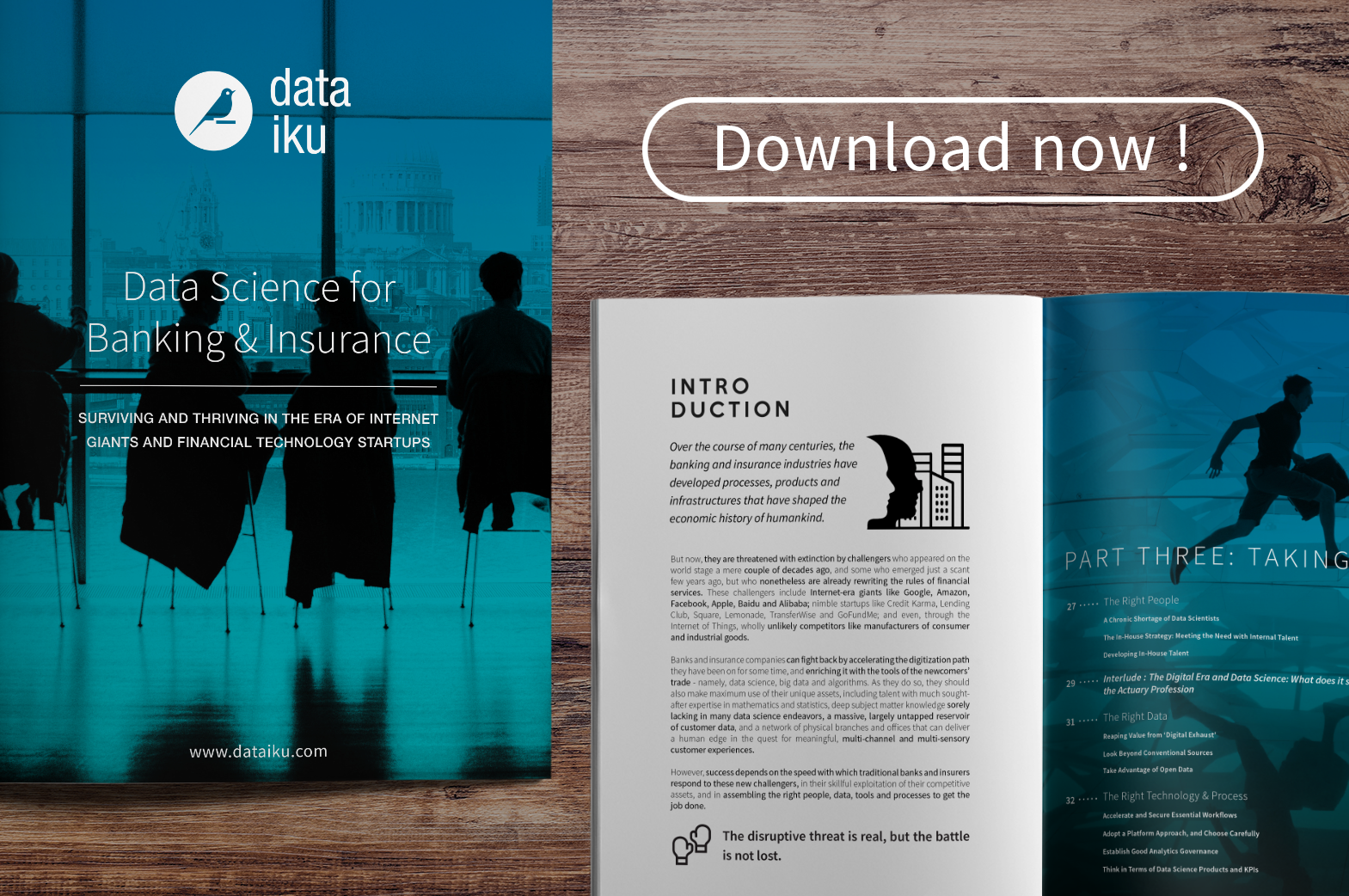 The Threat is Real
In 2016, any industry - no matter how old - that's not providing services customers want at a price they are willing to pay is at risk of having their business crippled, or at least seriously challenged and tested, by a startup or even by a tech giant.
Just look at the peer-to-peer payments industry: trillions of dollars worldwide are exchanged in person-to-person payments annually, but until recently, checks and cash were the primary drivers. People wanted a faster, easier way to exchange money that didn't charge exorbitant fees and that didn't require the recipient to be a customer of the same bank as the sender. Venmo (owned by PayPal) stepped in to fill this need and quickly became the peer-to-peer payment app of choice for millennials, leaving traditional banks scrambling to catch up and compete in this space.
But it's not too late
One of the biggest ways established companies in all kinds of industries are finding success against challengers is by adapting quickly to embrace data science. Successful companies reevaluted what it means to be data-driven and are working to build the right kinds of teams, equipping them with the right tools, and empowering them to actually make changes.
Banking and insurance aren't the early adopters in this space and have been slower to embrace big data, the age of algorithms, machine learning, and the looming ubiquity of the Internet of Things (IoT). But it's not too late! Both industries have enormous potential in this space not only to improve current offerings but to be completely innovative and cutting-edge.
Four Assets to Fight Back
Banking and insurance companies have some inherent advantages they can exploit to get an edge in big data.
Our latest whitepaper walks you through your potential challengers as well as these strengths. But more importantly, it serves as a step-by-step guide to helping incumbents and traditional banking/insurance businesses to rise to and match those strengths by embracing and implementing data science solutions.

You'll also see some case studies from the industry with real-life examples and applications of data science helping businesses around the world with companies like QxBranch, BlueDME, and many more!