As you may already know, at Dataiku we love taking care of our users, followers, and fans. So, as we approach the festive period of Christmas and New Year, we have a special announcement to make: the first Data Science Holiday Quiz is here!
You can find it on our Facebook page starting on the 1st of December and lasting through the 25th of December. The first question is live right now here!
The First Dataiku Holiday Data Science Quiz
Together with our R&D and data science teams, we have assembled 25 challenging questions. The questions are all about data science, big data, machine learning, mathematics, the culture here at Dataiku, and even easter eggs.
The questions are quite difficult, so we wonder if anybody will be able to answer each one correctly!
There's An Opportunity to Win Something New Every Day!
Every day, from the 1st to the 25th of December, we'll post one question on our Facebook page. If you answer correctly, you'll be automatically entered into a daily draw to win holiday goodies!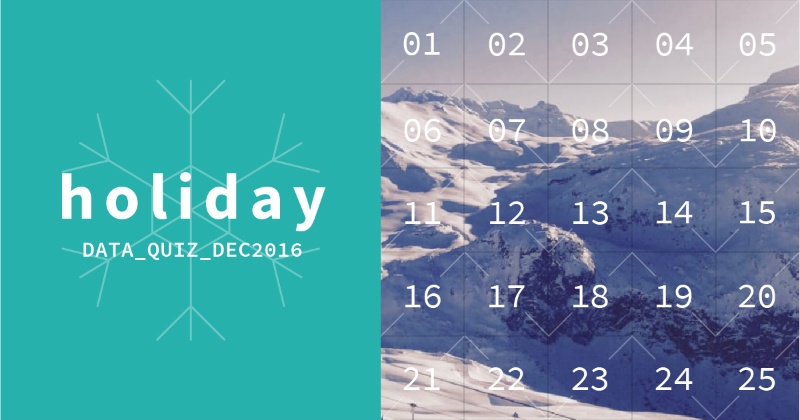 Participate in the first Dataiku holiday data science quiz right now!

How does the Holiday Data Science Quiz work?
It's really quite easy: every day at 11:00 AM EST (8:00 AM if you're in San Francisco or 5:00 PM if you're in Paris), we will post a new question. You'll have 24 hours to answer for a chance to win Dataiku goodies!
Of course, participating daily will multiply your chances of winning. But will you succeed in answering the questions correctly? Let's find out!
What are the goodies?
First of all, if you submit an answer to each of our daily questions, you win the well-deserved respect of our team — and this is a pretty great present, isn't it? ;)
Secondly, each day we'll reward one winner with something from our pile of goodies: a pack of Dataiku stickers (including our famous "Predict or Die" stickers!), a Dataiku t-shirt, a signed Dataiku notebook, a beret (so French!), candies, chocolate, and your picture on our future Dataiku Holiday Quiz Wall of Fame (to become part of the story of Dataiku for years to come!).
Last but not least, we're offering a drone (with a flypad, of course!) to the person who winds up with the best overall score on our quiz! (If there's a tie, we'll choose a winner randomly -- and we are experts at generating random numbers!)
So what are you waiting for? Come and visit our Facebook page right now and try your luck! We look forward to seeing you there.