We had a great time at our 6th DUG in Paris on September 22nd. The event was hosted by Mobiskill, a super sweet recruitment startup with a nice big office, so we had so many of our users there!
Dataiku's Principal Data Scientist, Louis Philippe, began the evening's entertainment by discussing how to get started with Hadoop and set it up in Data Science Studio. If you have questions on that topic he'd love to give you answers.
Then Maxime, one of our newly arrived data scientists, took over to talk about a project he did predicting the results of the Rugby World Cup Games and comparing them to bookmaker odds as well as actual results of games played. He wrote a cool blogpost about it here and also very nicely shared his presentation here.
Maxime explains how he predicted the victory of Japan vs South Africa for the Rugby World Championships at #DUG de @dataiku pic.twitter.com/hVywOd5Uq4

— Jérémy Grèze (@jeremy_gr) 22 Septembre 2015
Matthieu, the first data scientist recruited by Dataiku, then presented a project he was working on. He analyzed the data from the app he uses to track his runs. He was able to correct measurement errors, create a dashboard to accurately track his performances and recreate his runs by connecting an app to Google Street View and Open Street Map. We'll get him to write a blogpost on that very soon.
Great project by @mattsco on analyzing his running data #quantifiedself. Thanks again @mobiskill! #DUG #analytics pic.twitter.com/YTjOAl5zBW

— Dataiku (@dataiku) 22 Septembre 2015
Finally, our Product Manager, Kenji, gave us a sneak peak into the upcoming features available in the new version of Data Science Studio. He discussed the integration of Spark, the introduction of editable datasets and lots of cool graphs.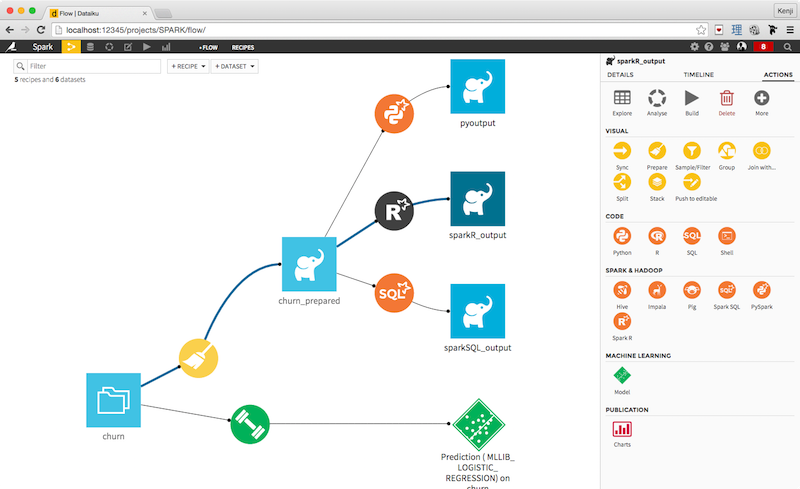 A preview of the new Data Science Studio!
We then enjoyed lots of pizza and beer, got to meet and discuss use cases with users, and eventually moved on to a not-so-friendly game of table-football.
Of course, we want to thank everybody who showed up and all the people who were with us in spirit. A special thank you to our talented presenters. And a great big hug to Mobiskill for having us.
We hope to see many of you at our next DUG! If you want to be notified you can join our Meetup group.
And, if you have an idea for a topic or a fun DSS use case you'd like to discuss at one of our DUGs, please tell me! We have a bunch of data scientists who could sit down with you for a couple of hours and work on a really cool project to share with the community.
Hope to see you soon!
Alivia, @thefrenchsmith