Dataiku's integration with HDInsight, the fully-managed Hadoop platform from Microsoft, is a great example of the openness with which Dataiku was built. This versatility means that it is easy to be up and running -- and extracting insights from your data -- within minutes.
We've written here before about how Dataiku pairs with Microsoft to form a complete data platform, and this time we want to focus especially on HDInsight. We're hosting an upcoming webinar to go through all of the advantages of pairing Dataiku with HDInsight and to answer your questions. Sign up for our upcoming webinar on combining Dataiku and Microsoft.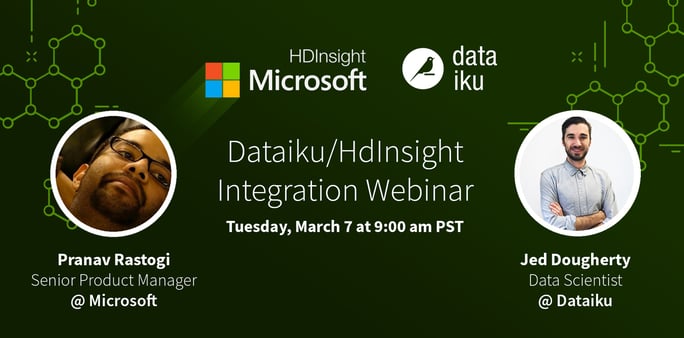 A simple integration
Dataiku is available directly from the HDInsight application marketplace -- just a few clicks, and Dataiku is up and running. The integration between Dataiku and HDInsight is versatile, meaning you can run on different types of HDInsight clusters, different versions, and different configurations.
Dataiku in HDInsight comes preconfigured as a full-fledged big data platform, including Spark and H20.
Extend the Reach of HDInsight with Dataiku
With its visual data preparation and machine learning functionalities, Dataiku also allows non-coders to access distributed datasets that reside within HDInsight while still letting data scientists and engineers easily build advanced pipelines using their favorite tools (such as Scala, PySpark, SparkR, Pig, Hive, etc.).
Dataiku also makes it very easy to integrate external systems with HDInsight. For example, you can import data from a SQL server, prepare it, and build a model within HDInsight, and then export the scored dataset to another system -- all using Dataiku's visual recipe builder.
Join us for our webinar
Jed and Pranav will present a demo that will cover the following points:
How to begin working with Dataiku within HDInsight

How data scientists can build end-to-end predictive applications on top of HDInsight using Dataiku

How to extend the power of HDInsight to less technical users

How to integrate external systems with HDInsight using Dataiku
This webinar is an opportunity for any organization looking to understand how to make more out of Dataiku or how to make more out of HDInsight.
Join us on Tuesday, March 7th at 9:00 a.m. PST. Spots are free but limited. If you can't make it on Tuesday, bookmark this page, where we'll embed a video of the webinar.