Any small or midsize business (SMB) that's serious about making the use of data, analytics, and AI everyday behavior for everyone is using a version of the modern data stack architecture. It can even make sense in the enterprise context for teams just getting started on their AI journey.
That's because incorporating AI into the day-to-day of the business is critical to, well — staying in business today, and the agility provided by the modern data stack is unparalleled. So what does Dataiku bring to the mix?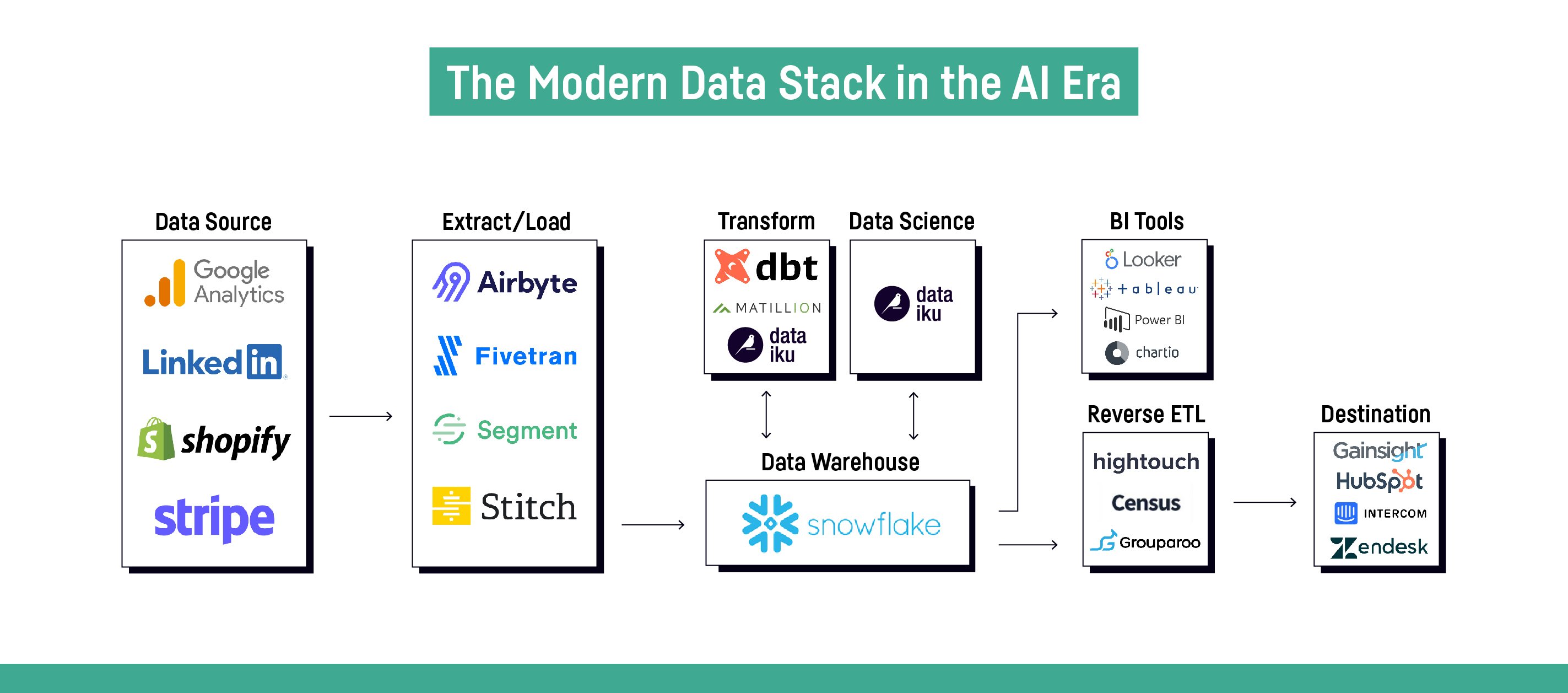 Everything You Need In One Place
Dataiku connects to your data and includes easy-to-use visual data preparation, automated machine learning (AutoML), and integrated reporting and visualization dashboards for your business — all in one place.
But it doesn't stop there. Dataiku can facilitate building reverse extract, transform, and load (ETL) components, feeding data back into operational tools. It can also bridge the gap from data scientists and other data experts to data consumers, allowing for the operationalization of AI projects and applications for use among a wider audience (more on this in the next section).
What's more, because all of these components — from data science to business intelligence (BI) and visualization to reverse ETL — are happening in one tool, the pieces play nice together.
For Everyone
If agility is the name of the game when it comes to the modern data stack, Dataiku is the perfect fit because it's a tool for everyone (literally). From full-code for data scientists, engineers, architects, and more to no- or low-code for analysts and business experts, Dataiku is the central tool for all data efforts.
Since ease on the IT side is also fundamental, having a place where everyone on the team or in the organization can work instead of having to invest in different tools for different people and then figure out how they all need to work together is critical.
Fully Managed Option with Dataiku Online
Dataiku can be leveraged as a software layer in your own cloud. But for teams or organizations looking for a fully managed option, Dataiku Online is built for the modern data stack — managed, serverless, and low technical expertise required when it comes to maintenance (administration and upgrades).
The bottom line when it comes to the modern data stack, and to Dataiku, is flexibility. Organizations need to invest in architecture that will work today and with whatever technology is popular five years from now, or even further in the future.
When thinking about the future, scale matters — and Dataiku is ready to scale with the success of your company. From startup to proven solution tried, tested, and adopted by large, multinational enterprises, the platform has more than 45,000 users worldwide and is a recognized leader in the space.