"No one should select an AI operating model just to select an AI operating model," says Jennifer Roubaud-Smith, VP of Global Services at Dataiku in a VentureBeat article. "No one should set up Centers of Excellence just to set up Centers of Excellence. It should always be about the kind of business challenges you want to solve."
Wherever an organization begins with their operating model (i.e., Siloed/Decentralized, Center of Excellence, Hub and Spoke) it really comes down to making sure there's a strong alignment and connection between data and domain experts. Implementing and executing on AI initiatives at scale requires an organization to closely analyze their use cases, business objectives, and, most notably, their AI maturity. Honing in on the six key drivers of AI maturity — vision, data, talent, value, governance, and system — can also help organizations more effectively deliver business value from their AI projects.
So, how can organizations effectively evolve their operating model over time to remain in line with their enhancing analytics and AI maturity? Many companies find it risky to jump to one structure without going through previous ones in order to gain experience. The table below summarizes what's generally needed to start and stop using one structure over the other: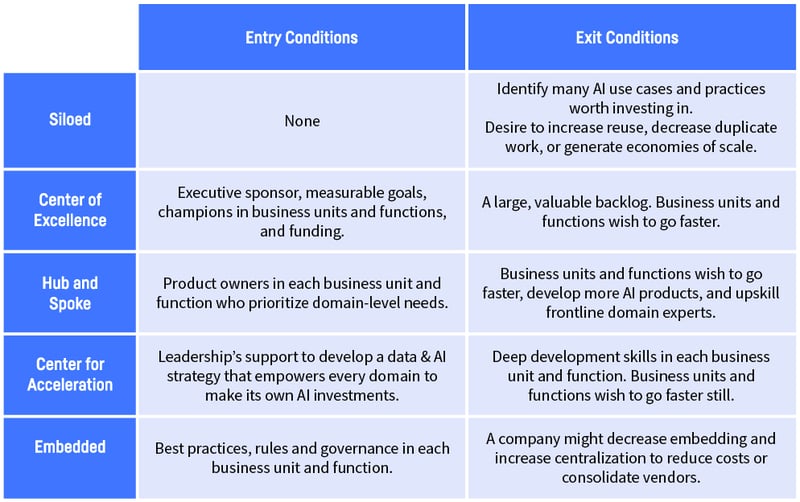 Not only will analytics and AI maturity vary with each one of these operating models, but AI development and infrastructure operations are also distributed differently to the "Hub" and the business units depending on the model. We hope you find the chart above useful when determining (alongside variables like ROI goals, risk tolerance, and timeframe) if you're ready to move to the next operating model (and therefore level of AI maturity) for your AI projects.