Dataiku Partner Day is a yearly opportunity to connect with our dedicated partner ecosystem across the globe, share our company strategy, and provide updates on the product roadmap. Partner Day brings together a variety of Dataiku services partners such as system integrators (SIs), consultants, advisory partners, and value-added resellers. With over 130 active partners, the Dataiku partner ecosystem is continuously growing and Partner Day is a valuable opportunity to keep our partner community engaged and in-the-know.
Key Highlights
This year, for the first time, Dataiku hosted a virtual Partner Day for EMEA and Americas partners. The Dataiku leadership team led two interactive days filled with key Dataiku updates, celebrations of accomplishments, and sessions where we got to know our partner ecosystem better. The virtual event consisted of a mix of business-focused and technical sessions, giving our partners a wide scope of relevant information. At Partner Day, we covered a vast range of topics, including but not limited to partner strategy and framework, the Dataiku sales approach, market view and positioning, technology alliances, partner awards, and more.
Partner Awards: Americas
Global SI Partner of the Year: Deloitte
The Dataiku Global System Integrator of the Year Award recognizes outstanding GSIs that excel in driving outcomes for our joint customers, enablement of their teams to deliver services, innovation around our joint solutions, and, ultimately, increased business performance for our firms. Deloitte has committed to the enablement of their teams to effectively serve their customers around Dataiku's software. This commitment has helped Deloitte develop a deep bench of talented team members around the world that can accelerate their customers' digital transformation with AI at its core. Dataiku is grateful for the partnership with Deloitte and we look forward to even greater success in the years ahead.
Deloitte is supporting cross-industry clients that leverage Dataiku's data science platform to accelerate model development, deployment, and monitoring in complex enterprise environments. Clients are using Deloitte's deep expertise in AI to advise, implement, and operate to integrate Dataiku in the existing technology environment and orchestrate with other ecosystem technologies." - Ayan Bhattacharya, Managing Director of Applied AI at Deloitte

SI Partner of the Year: Axtria
Axtria helps life sciences companies transform the product commercialization journey to drive sales growth and improve healthcare outcomes for patients. Axtria earned the SI Partner of the Year Award for their commitment to enablement, having invested over 600 hours in training and enablement within Dataiku DSS and continuously growing. With this level of commitment, it's no surprise that Axtria is involved with most of our life science customers, delivering value and services including business transformation consulting, training, implementation, and support for Dataiku users. We're looking forward to what is in store in driving leads, activating opportunities, and driving revenue for both Axtria and Dataiku.
Axtria is at the forefront of democratizing analytics within the life sciences industry. To fuel future growth, life sciences companies must effectively leverage data and analytics across the value chain from R&D and clinical to commercial and patient services. Axtria is helping customers accelerate their commercial success journey with a strong partnership with Dataiku. We combine our deep industry expertise with Dataiku's industrial-strength data science platform to develop, deploy, and monitor complex models for our customers on a global scale." Navi Chadha, Co-Founder and CTO, Axtria

Emerging SI Partner of the Year: Excelion Partners
Our journey with Excelion Partners started two years ago, and we are impressed with their commitment to high service delivery standards and their ability to drive and close meaningful sales activity. Excelion has been our most active partner in the Americas in terms of opportunities, collaborating on marketing events, and developing Dataiku DSS-based solution offerings with a strong emphasis on enablement.
Not only are they a joy to work with, but they have secured their Gold Partnership level through their commitment to reselling and referring opportunities to Dataiku. We see their journey and selection of Dataiku as their preferred data science offering as a beacon of what is possible for our SIs, both large and small, to create a practice for Dataiku services and provide clients with a vision of the new age of data platforming. We're thrilled to award them the Emerging SI Partner of the Year for 2020, and we're keen to continue our collaboration with them in the future.
Dataiku embodies our belief that collaboration is at the heart of data science. When we evaluated Dataiku as a platform we realized that it answered not only the collaboration challenge of data science but also gave us a comprehensive solution that made things transparent and easier from exploratory analysis to model retraining and deployment. We find that we can sum up our projects into two different categories: We help businesses make money and save money. We have helped manufacturers reduce scrap through descriptive analytics and machine learning (save money) and we have helped financial companies make decisions based on data and not gut instinct which has decreased customer churn and increased revenue (make money)." - Tony Olson, Director of AI Strategy at Excelion

Partner Awards: EMEA
Best Effort on Certification: LINCOLN
We are honored to award our French partner Lincoln as the partner who has shown the best effort on training and certification in EMEA in 2020. LINCOLN has been a digital service company for more than 30 years and a pioneer in data science, offering expertise, consulting, and support services in modern BI and data science. The partner has trained and certified ten consultants at the advanced level and they have more than 30 consultants ready to implement Dataiku DSS. Lincoln and Dataiku share their data-powered engagement and build together their own path to AI in a human centric way.
Dataiku is a catalyst for data exchanges within company entities." -Maxime Boursin, Director of Development at LINCOLN

Best Business Development Partner: GREENNET
At Dataiku, we don't serve as a vacuum, we partner to serve our clients. Our partners are a key component of our business development effort, and we are happy to award our Georgian partner GREENNET. Founded in 1998 to meet the growing demand for quality network solutions in Georgia, GREENNET has rapidly grown to become the country's leading systems integrator and network solutions provider. GREENNET's team of enthusiastic professionals has years of hands-on experience in making IT and telecommunications solutions work. Our clients benefit from our unparalleled technical expertise in technical consulting, network design and implementation, professional training, and 24/7 technical support.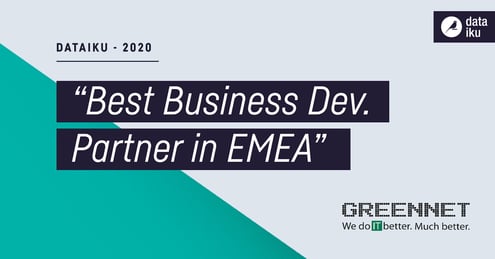 Best Effort on Implementation: Wipro
At Dataiku, we care about our long-term relationships with our clients and we constantly aim to optimize time-to-value for them. That's why providing outstanding services around Dataiku DSS is paramount. This award is a tribute to WIPRO Middle East's collaborative mindset and focus on results. Mathew Joseph, Business Head of Data, Analytics & Artificial Intelligence at Wipro in Dubai who accepted the award said, "Dataiku is a promising solution to help our customers implement AI at scale. We are confident that Wipro along with Dataiku will accelerate our customers' journey towards an intelligent organization."
This recognition is a testimony to Wipro's and Dataiku's commitment to the success of our customers in their journey to become intelligent enterprises. The partnership helps enterprises accelerate their AI and insights transformations at scale. Wipro's deep domain experience and years of implementing insights transformation initiatives coupled with Dataiku's platform will allow businesses and citizen data scientists to seamlessly roll out their enterprise AI/ML offerings in their data-to-decisions journey." - Jayant Prabhu, Vice President & Head - Data, Analytics & AI, Wipro Limited.

Final Thoughts
A true Dataiku Partner Day wouldn't be complete without an engaging networking experience. Although we can't meet for an in-person happy hour, we brought this experience to our partners virtually through a pub quiz in EMEA and a mixology class in the Americas. Despite the circumstances this year, the Dataiku partnership team is grateful for yet another opportunity to engage with our partner ecosystem.