Dataiku is committed to shaping the future of data in a way that is fair and diverse, from promoting responsible AI to fighting racism and increasing opportunities for queer talent in tech. On top of these initiatives, we also want to play our part in guiding more women toward tech functions, supporting women's education in science, technology, engineering, and mathematics (STEM).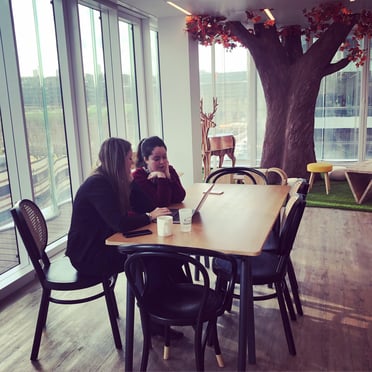 From 2020 onwards, we are proud to partner with ESSEC and CentraleSupelec — two leading European business and engineering schools — to help them diversify the profiles of their Data Sciences & Business Analytics joint master's degree students.
ESSEC's Women in Data Sciences and Business Analytics scholarship program aims to inspire and encourage female students to pursue a career in STEM. As part of this program and for the next four academic years, Dataiku will fund a €10,000 annual scholarship benefiting a foreign female student who has not yet completed studies in France and is from an Asian, South American, African, or European country.
These criteria were thoughtfully defined by ESSEC and our Diversity, Equity and Inclusion team. Every year, we will be in charge of interviewing the candidates shortlisted by ESSEC and choosing the scholarship holder among them before organizing a celebration in our Paris office.
"We support this initiative because we believe we can play a role in democratizing access to world-class data science training. It's a bet on the future. How can we make Responsible AI a reality if those who are in charge of building it all share the same background? When you open elite programs to profiles who do not usually have access to them, you are taking concrete action to make sure that the data science teams of the future will be more diverse"

- Gildas Fresneau,

Academic Program Specialist - EMEA
This scholarship is not our first move toward empowering more women to join the tech world: it started with our alliance with Simplon on their "Scale Women in IT pledge" as well as our collaboration with Girls in Tech on International Day of Women And Girls in Science.
We are taking things step by step and are well aware that the road to gender equality in tech is a long one, but we are convinced that taking action is what will drive change.