At Dataiku we work everyday to make Data Science more accessible to everyone with our Data Science Studio. Today, we are proud to announce the release of Data Science Studio V1.1 (Yuzu) , a major step forward for all data analysis projects.
This update contains some of the most often-requested features from our users, as well as some that have long been in the pipe:
Projects and collaboration
Once you start using Data Science Studio, you don't want to stop after your first data project. Data Science Studio now features a brand new projects management system. Each project is a separate working environment, containing its datasets, transformation recipes, predictive models, … Projects let you organize your workflow and handle multiple levels of access rights (readers, analysts, administrators, etc.).
You will also discover new collaboration tools : tags, timelines, comments and notifications let you work efficiently with your team, and you can now share comments, charts, datasets, notebooks and custom HTML visualizations with your colleagues and pin them on a board accessible to anyone.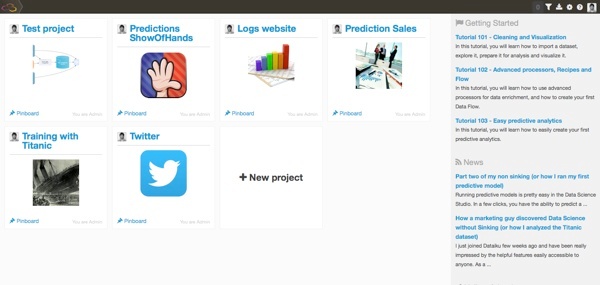 New Machine Learning guided interface
Our business users like the way they can create predictive models within the graphical interface without coding. For them, we refunded all the interface to do so. It supports a vast choice of algorithms and parameters. You now have the ability to perform many runs and easily compare them.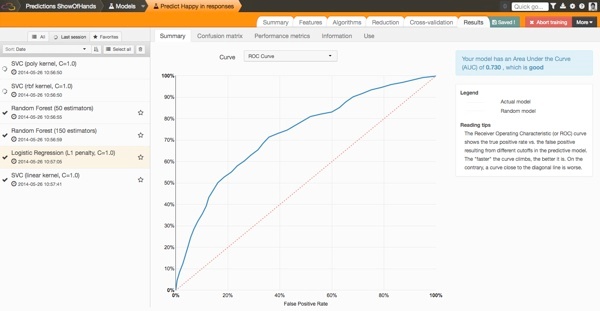 Text mining tools
Text mining and analysis require special tools to be effective. We included new processors to our interface to help you transforming and enriching your text based datasets in a few clicks :
Text simplifications to merge words or queries that should be considered the same.

Extractions of sequences of words, called ngrams, from text to a new column.

Fuzzy left join on your data to match lines from different datasets even if the two strings being matched are not exactly equal, but close.
Enhanced connectivity
We keep adding new connectors to our platform to let you work on top of all the major databases or social services. In Data Science Studio V1.1, we are happy to announce support for Impala, MongoDB and Twitter.
The Twitter connectivity lets you capture keywords or hashtags and save the tweets directly within the Studio.
With the MongoDB connector, you will benefit from the simplicity and the power of use of this NoSQL database to manage your documents and perform analyses.
Other improvements + bugfixes
The user experience have been generally improved in this new version. We want to provide the best usability even when you deal with thousands of databases and millions of records. Our Data Scientists work everyday with our solution so we are sure to have good feedbacks.
Request a free trial to discover all these new features ! We will also present our new version at our open house session on June 12 in Paris. Feel free to come !
We are waiting for your feedbacks :-)
Clement, CTO of Dataiku.