"Where'd you get this number?" is a common and often dreaded question for an analyst on a finance team. Someone has the answer, but tracking down where that file is saved is a long and arduous process of searching spreadsheet files, sending messages, and ultimately spending hours finding what's needed.
In higher stake situations like audits or ensuring regulatory compliance (such as for SOX or IFRS), finance teams might pull data from multiple resources and then build summaries and abstractions for regulatory analysis.
When discrepancies arise in figures, analysts and accountants scramble to address them, digging into every document they can find. Eventually, they find the errors buried in an obscure file and provide enough to satisfy auditors or regulators (for now).
But finance teams often don't fix the underlying issue of version control, auditability, and better data lineage, causing the same issue to come back around for the next audit or compliance report and perpetuating the cycle.
The Impact on Financial Reporting
If this sounds like your experience, you may be operating a weak internal control environment, opening yourself up to unnecessary risk and repeating the cycle of scrambling when building financial reports.
The continued risk might look like this:
More audits due to figures inaccuracy or missed discrepancies.
Running afoul of regulatory compliance and putting the company at risk for heavy fines, not to mention impact on reputation and additional scrutiny.
Loss of trust in finance processes and reporting from internal stakeholders to investors.
End User Computing (EUC) risk with reporting and processes occurring from local machines.
Accelerating Time to Compliance & Auditability
Ensuring timely compliance with regulatory financial reporting requirements is already a heavy operational burden on finance teams without the challenges of managing disparate and difficult-to-track financial data sources and inconsistent internal controls. When analysts from various business units manually pull data from ERP systems or other databases, manipulate it in spreadsheets on their laptops, and cobble together reports, these are often filled with inconsistent data that leads to the scramble mentioned earlier.
Imagine bringing together your different teams into a central analytics workbench where they can quickly combine data from various sources, and where their actions are traceable, documented, and easily visible to other team members. Enter, Dataiku.
With increased access to trusted data, your teams will be able to develop better consistency and accuracy of reporting. With everyone working from the same version of financial data, you'll be able to standardize financial controls across business units and more quickly respond to audits.
Finance Teams: Reduce Risk With Dataiku
With Dataiku, you can do just that. Audit trails, user activity trackers, and an automatically documented visual flow of any actions that have occurred to data mean that you can track and verify each data, process, and project update.
Teams can easily collaborate in a central location, including seeing what has been done to data (and by whom) while project wikis can create shared understandings. With built-in user controls, you can also restrict access to projects based on your requirements.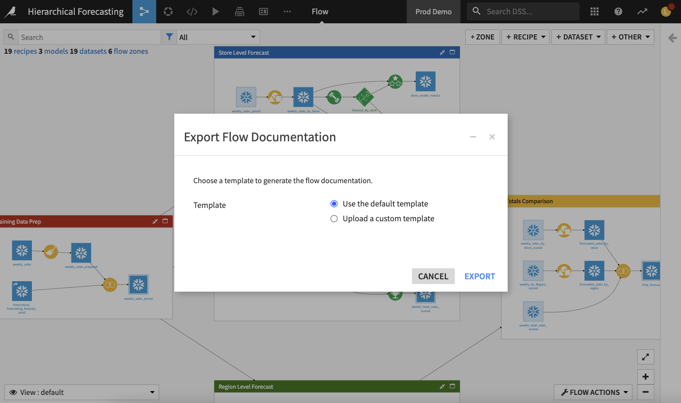 Features like the Flow Document generator (pictured above) allow you to produce a quick snapshot of everything in your data flow and can be refreshed as needed. Project bundles contain standardized snapshots of pipelines and project artifacts, captured in a central registry for easy tracking. You can even leverage Dataiku to predict and identify outliers before formal audits using descriptive statistics and machine learning, saving time and unnecessary stress.

Overall, Dataiku can help your team reduce time conducting the analysis needed to build financial reports, and create better auditability in your processes. All of this means less stress, less scramble, and more consistency for your finance team.