At Dataiku, we think we'll see even more conversations surrounding the topic of Responsible AI in 2021, as it is critical to managing and addressing the societal impacts of AI. Encouraging transparent processes (and not black-box approaches) and implementing features in order to detect and prevent algorithmic bias will remain at the core of who we are and what we do.
Relatedly, we believe that data science and AI should benefit everyone and can be used for good — notably, to solve some of the world's most complex challenges. This year, our "for good" initiative, Ikig.AI, spent time working on some really exciting projects with nonprofits around the globe. As the next article in our 2020 wrap-up series, we've outlined them below — apply now if you're interested in joining our nonprofit program!
1. One Acre Fund
One Acre Fund, an Ikig.AI partner since December 2019, is an agricultural service provider that's investing in the future of rural Africa. They bring high-quality farm inputs, financing, and training directly to smallholder farmers, enabling farming families to significantly increase their crop yields and incomes. They are using their free license of Dataiku DSS to predict farmer behavior, harvest yields, and general data ETL processes.
2. Crow Canyon Archaeological Center
Crow Canyon is a center for archaeological research, education, and preservation of the history of the Ancient Pueblo peoples, who lived on and in the cliff dwellings of Mesa Verde more than seven centuries ago. Established by private cultural initiatives that continue the work of American benefactors, the center provides hands-on programs for people to experience archaeological excavation of Native American sites.
The team at Crow Canyon, who has been an Ikig.AI partner since July 2018, is using Dataiku DSS for a very unique use case. They are working on a computer vision algorithm to classify ancestral Pueblo pottery pieces or vessels (some of which are broken and others which are complete) into known types based on their design types.
3. Cascade Bicycle Club
A new Ikig.AI partner as of November 2020, Cascade Bicycle Club is a bicycle nonprofit that serves bike riders of all ages and abilities throughout the state of Washington. With a mission to improve lives through bicycling, they teach the joys of bicycling, advocate for safe places to ride, and produce world-class rides and events.
The team at Cascade Bicycle Club is excited to use Dataiku DSS to better understand customer segmentation and customer journeys to grow support and create more mission impact through their events and rides, education, and advocacy efforts.
4. Urban League of Greater Atlanta - Young Professionals (ULGA-YP)
Also a new partner in 2020, the ULGA-YP aims to support the National Urban League movement through volunteerism, philanthropy, and membership development. They do so by supporting their local affiliate, The Urban League of Greater Atlanta, providing a forum for the development of young professionals and engagement of Atlanta's youth. They are currently using Dataiku DSS for data exploration of their member data.
5. The Ocean Cleanup
The Ocean Cleanup is a nonprofit engineering environmental organization, based in the Netherlands, that develops technology to extract plastic pollution from the oceans and intercept it in rivers before it can reach the ocean. Ocean Cleanup, which was our very first Ikig.AI partner, started using Dataiku in December 2018 to catalog the amount of plastic waste and marine debris collected and removed from the environment from beach cleanup organisations worldwide.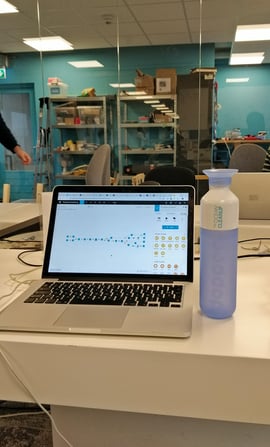 Dataiku DSS on a laptop at The Ocean Cleanup
Ocean Cleanup aims to clean up 90% of ocean plastic pollution. Their lead computational modeler, Bruno Sainte-Rose, spoke at EGG NYC where he shared how they are leveraging Dataiku to conduct operational modeling of their plastic cleanup systems (and use AI for good!). You can see the full video below:
6. ALMA Observatory
ALMA, the Atacama Large Millimeter/submillimeter Array, is currently the largest radio telescope in the world. The observatory is the result of an international association between Europe (ESO), North America (NRAO), and East Asia (NAOJ) — in collaboration with the Republic of Chile — to get it built with joint intent. The telescope is composed of 66 high precision antennas and is recognized as "the most complex astronomical observatory ever built on Earth."
ALMA has been working with Dataiku since 2017 and became an official Ikig.AI partner in 2019. With Dataiku, the ALMA Observatory has been able to connect the entire data pipeline to enable different stakeholders to add their expertise where it's needed, whether they're a data scientist, engineer, or astronomer. In this video, see how Ignacio Toledo, Data Science Initiative Lead at ALMA, uses Dataiku to help with data evangelization within the ALMA staff and other insights about why data science is critical for astronomical observatory operations.
7. Ayudinga
The newest addition to the Ikig.AI program is Ayudinga, who joined in December 2020. Ayudinga is a Panama-based nonprofit providing free online math learning courses. The team will use Dataiku DSS for the preparation, consumption, and development of data-based models to improve student learning using different data sources (i.e., relational databases, NoSQL databases, APIs, etc.).
Looking Ahead
As we look ahead to 2021, we're focused on continuing to conduct our business with the highest standards of responsibility and ethics — we even released our own Corporate Social Responsibility Policy, which reinforces our activities' impact on the world around us (both the community and the environment).
We also joined the United Nations Global Compact (UNGC) thus joining international forces in advancing the 17 sustainable development goals as a company. Lastly, we hold firmly to the belief that AI has a critical role to play in creating a more sustainable economic world, so we encourage the responsible use of AI by providing the appropriate tooling, training, advisory, and incentive to all customers and employees. It is these steps that, combined with the initiatives outlined above, position us well to foster AI for good in 2021 and beyond.