Governance is often the last thing that data, analytics, and AI teams want to think about, but it is one of the keys to delivering AI at scale. To many, governance is a concept rather than a set of actions. In Dataiku 10, that changes as AI Governance becomes a function that plays well with design and operations to build and deploy AI projects at scale. With the new functionality, new roles are joining the AI team, including program and risk managers, analytics leaders, and even domain experts.
Dataiku already has strong governance capabilities, including data lineage from sources to models, granular model and object version control, role-based access control, integration to enterprise directory services, tracking team contributions, audit trails, automated model documentation, and more. Dataiku 10 takes AI Governance to the next level with new capabilities, including model registry, governable items for oversight, governance plans, risk and value assessment, stakeholder feedback, and project sign-off prior to production deployment.
It all starts with a review of governable items. Analytics leaders and risk managers can now see all Dataiku projects across teams and instances. They can then review and choose projects that need enhanced governance and match them to the appropriate governance plan and review process. They can also decide not to apply governance to lower risk or internal projects where step-by-step reviews and sign-off are unnecessary.
The new model registry also provides additional visibility and control over production projects. The model registry offers analytics leaders and operators a complete view of all production models across instances and their current status and metrics. Models developed in Dataiku, custom models, and those created outside Dataiku in MLFlow are all visible in the registry.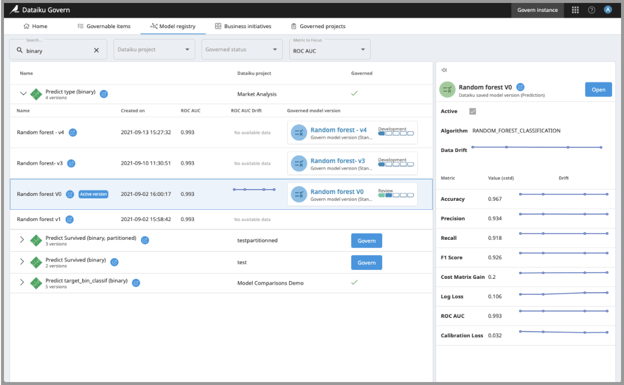 New Model Registry in Dataiku 10
New governance plans allow for a template-driven approach to process steps and approvals. Plan stages can include areas across project evaluation, design, and operations. For example, stages in a template could consist of exploration, qualification, development, validation, and production with sign-off for the production step. Other templates could have more or fewer stages. Each stage has a unique set of actions and can include reviews by stakeholders. The templated governance plans create a consistent approach across projects and ensure stakeholders are in the loop to maintain project velocity while managing risk.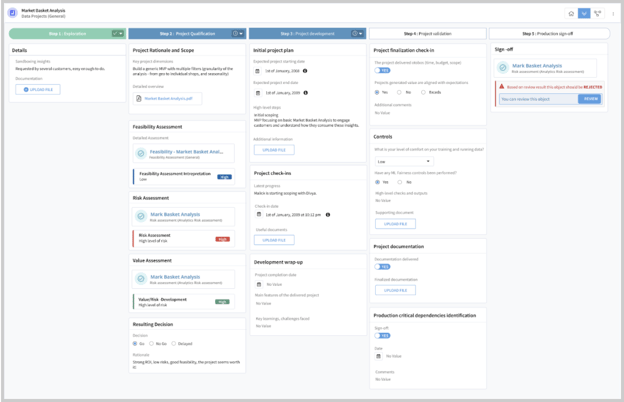 Governance Plans in Dataiku 10
As organizations scale their use of AI across teams and use cases, creating a consistent framework to evaluate project risk and value becomes critical for the assignment of resources. The new risk and value assessment capabilities in governance plans allow analytics leaders to assess projects across multiple dimensions before assigning resources for development to maximize the impact of AI on the organization.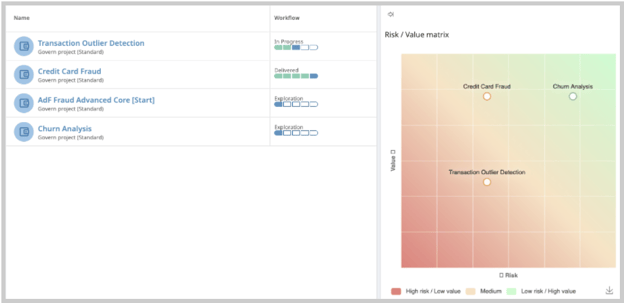 Risk and Value Assessment in Dataiku 10
In Dataiku 10, AI governance becomes a new function in the AI development lifecycle with new roles for project and risk management and essential tools to assess and manage AI projects across teams. With these new governance capabilities, analytics leaders are in the driver's seat to develop more analytics projects by optimizing resources and standardizing processes to maximize value and manage operational, legal, and regulatory compliance risk.