Exciting news: as part of our continuous effort to bring the data community together, we have partnered with GrowthTribe in Amsterdam to offer the first ever artificial intelligence (AI) course geared specifically toward marketing and growth activities.

This course aims to make machine learning (ML) and AI accessible to everyone, even non-technical profiles. Peter von Sabben, co-founder of GrowthTribe believes that "AI & ML skills are just as indispensable as skills in Word and Excel on your CV." And he is not alone; the Harvard Business Review argues that "the most important general-purpose technology of our era is [AI], particularly [ML]."
We are proud to work alongside GrowthTribe to help people grow those critical skills, especially as it forwards our larger mission to unite coders and non-coders alike for more scalable and business-impacting data projects.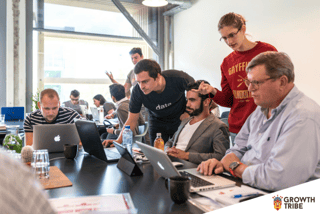 Comprised of a mix of web developers, online marketers, digital transition experts, coders, data scientists, behavioural economists, UX experts, and growth hackers, the first workshop took place in Amsterdam and lasted two days.
The course helped students:
Understand all the concepts and jargon of ML and AI.
Select and execute AI algorithms for business purposes (e.g., predictions, segmentation and natural language processing).
Fully understand when and where to apply AI to a business case.
"Dataiku is excited about this partnership with Growth Tribe. Together, we are able to make growth hacking very approachable to a large audience," said Hylke Visser, Director of Sales in the Benelux region at Dataiku. "By combining a data science platform with the brightest hackers, we give these students the perfect tool to make data science a concrete asset in their everyday lives."
Interested in being part of the next event? Join us for the next session. Not ready to commit just yet? You can also join our meetup community to come to our next one soon for an evening of pizza, beer, and learning about new data trends.