In this article, you will learn about how Cascade Bicycle Club, a U.S.-based nonprofit, became a data-driven organization and empowered their volunteers with greater access to analytics.

1. Setting the Scene
Cascade Bicycle Club (Cascade) is the U.S.'s largest statewide bicycle nonprofit. They serve 10,000 bike riders and communities of all ages and abilities throughout the state of Washington. Their mission is to improve lives by sharing the joys of cycling, advocating for safe places to ride, and facilitating world-class rides and events.
After the onset of the global health crisis, Cascade had difficulty gauging how to optimally re-engage riders in the program and turned to data science to better scope the matter. In the fall of 2020, they reached out to a team of pro bono data scientists to get the wheels turning. They figured they could start with existing transactional data held in Salesforce to model rider segments, as well as past drivers of engagement and churn behavior to better understand how to engage with riders.
But it soon appeared, however, that Cascade lacked proper data infrastructure for their pro bono data scientists to effectively work together. This was in part due to their reluctance of giving away Personally Identifiable Information (PII) to a platform they wouldn't have direct control of.

Essentially, Cascade needed a way to provide data science tools (Python, Jupyter notebooks, R, SQL, Salesforce data) to analysts across the country, without moving customer data to personal computers to overcome this privacy concern. And this enterprise-class data science infrastructure would optimally be delivered immediately to enable Cascade to keep on improving lives in due course.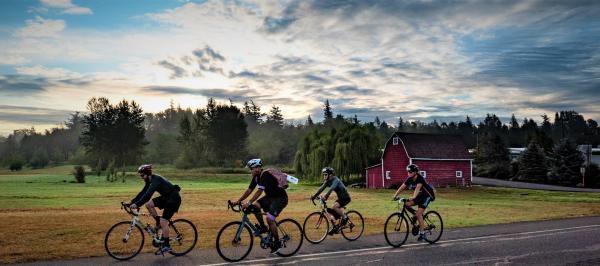 Image from Cascade Bicycle Club blog
2. How Did Cascade's Wheels Turn to Dataiku?
Cascade reached out to Dataiku's AI for Good program, Ikig.AI, after being referred to by an avid member of Dataiku's community. Thanks to our Ikig.AI free license, they tapped into a platform which ticked all their boxes — giving a small team of volunteer data scientists the chance to collaboratively analyze multiple sources of data in a single space.

Within a month, they had set up an AWS instance, connected data from Salesforce via a standard plugin, and collaborated in real time in Dataiku.
Had they conducted this in-house and patchworked a solution themselves, this whole setup would have taken them several months.
Thanks to Dataiku's platform and people, a team effort in moving Jupyter notebooks to a new space, and an investment in additional AWS infrastructure, Cascade elaborated on three key projects:
Rider segmentation to better understand their objectives and behaviors
Rider retention and churn minimization
Customer Relation Management (CRM) cleaning through de-deduplication to optimize further analysis
Five additional pro-bono data scientists were called upon to join forces on these initiatives. They were very swiftly onboarded onto Dataiku thanks to its seamless ability to enable the reuse of existing Python, notebooks, and Dataiku data flows.
3. How Did This "Cascade" Into the Nonprofit's Operations?
Dataiku's Everyday AI platform was a game-changer in boosting data science operations in three ways:
Enabling Collaboration Between Team Members and Volunteers
Dataiku provided a controlled environment that allowed volunteers across the U.S. to collaborate on a common set of data and work in a single environment with standard data science tools. Dataiku's versatility let each contributor leverage their preferred technologies and techniques. This was pivotal in empowering volunteers.

Facilitating Reuse of Past Projects and Workflows
The visual interface enabled every contributor to view other participants' workflows to assess where they can optimally contribute their time and expertise. Dataiku's accessible platform also made it easy to onboard new volunteers, making it much quicker to understand existing projects, and reuse snippets for their own endeavors by copy/pasting steps of the flow and duplicating projects.

Adopting a Data-Driven Approach



Cascade's ability to quickly conduct their first data science projects in Dataiku and demonstrate organizational impact firmly lays the foundations of a data science culture at Cascade Bicycle Club — ensuring the confident engagement of staff and volunteers.
Overall, this collaborative project between Cascade and Ikig.AI is a reproducible template as to how a nonprofit can leverage data science. Indeed, all the ways Cascade benefitted from Dataiku's nonprofit program drew a basic roadmap for how nonprofits can creatively build infrastructure and leverage data science skills to join in on today's data science revolution.
4. What's Next?
Though the global health crisis impeded Cascade's 2020-21 full ride season and their use of the aforementioned results, they intend on making the most of gathered insights in 2022. They intend to analyze data to understand who their riders are, when they are signing up, and to gauge the level of interest in riding in-person again. For a deeper dive into all Cascade's been up to, check out their latest report.