Meet the Dataiku Community, the new one-stop shop bringing together Dataiku DSS users and AI builders for learning, peer-to-peer support, and best practices enabled by an updated, shared platform experience.
At Dataiku, we are strong believers that connections, community and culture pave the way for AI democratization. After hosting data meetups around the world, launching a podcast series, a weekly newsletter, and a documentary, we've now enhanced our offering to provide an online hub to gather data science enthusiasts of all kinds and foster thoughtful, engaging exchanges.
The Dataiku Community centralizes resources and knowledge to enable any and all users to get started and build up expertise in data science and Dataiku DSS. From the new data science student to the most advanced enterprise AI Administrator, the Community seeks to empower all individuals to find the answers they need to help them work faster and smarter. The Community also encourages collaboration and friendly competition, allowing more advanced users to assist others, and grow the collective knowledge of the data science space.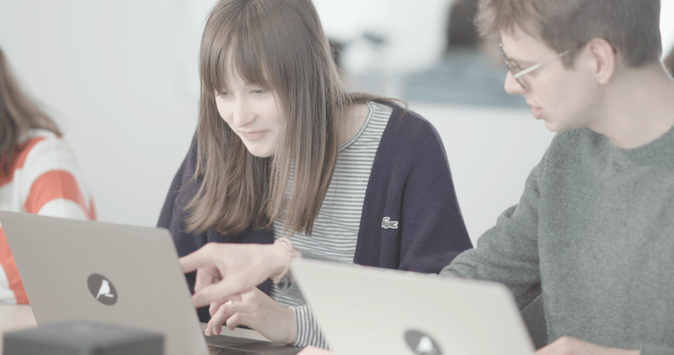 Users old and new can ask questions and get help on all things Dataiku, from getting up and running to operationalizing, extending capabilities with plugins, and all technical quandaries in-between.
The linked Academy learning platform provides guidance to take your first steps through tutorials and practical use cases, while the new Product Knowledge Base features user-friendly Dataiku DSS articles addressing some of our most commonly asked questions, or even advancing into new territories with more in-depth articles from our own internal experts.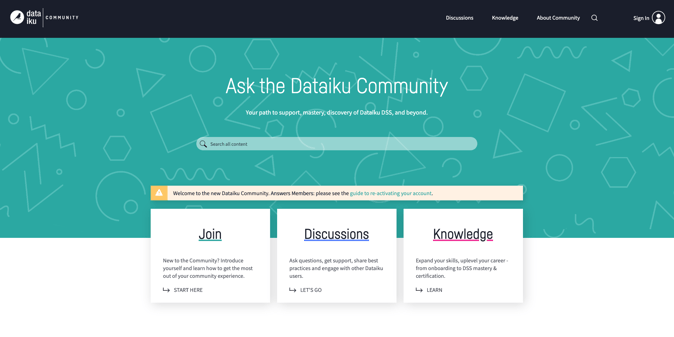 Members of our legacy Answers platform will find the similar basic posting functionalities, now supercharged with even more options to create content, manage notifications for topics of interest, and privately message fellow members. And we've added a little fun to the game, with shiny new features such as badges, ranks, and leaderboards to recognize participation and reward our top contributors who make this Community a home for all users.
And that's not all - join now to be part of the evolution of our Community. Participate, provide feedback and watch as we continually enhance and further refine our Community programs and platform to best serve our users needs - including user groups, an Ambassador program and much more to come!