One constant in business is the importance of knowing your customers. And in today's environment where customer loyalty is not guaranteed (3/4 of consumers changed their purchase behavior over an 18 month period), knowing your customers is the surest way to build lasting relationships with them.
But before that connection can occur, a company must first determine who their customers are. What are their preferences and purchasing patterns? Making this determination is so important that the crux of successfully increasing sales and profits, no matter the industry, hinges on whether a business prioritizes or downplays the critical task of understanding their customers.
In retail and CPG, rapidly shifting customer behavior is the new reality, making customer loyalty ever more challenging to secure. Perhaps the most fundamental industry metric when it comes not only to knowing who your customers are, but also who your most valuable customers are, is customer lifetime value (CLV). It is the core mechanism for navigating your existing customer data and guiding business decisions. Afterall, consumer driven businesses have a higher likelihood of increasing their sales to existing customers (60%-70% probability) than to new customers (5%-20% probability).
While CLV directly indicates the value of a customer, it also helps unlock much more. CLV enables line-of-business managers to take action on existing customer data. Along with complimentary customer metrics like customer acquisition cost (CAC), it facilitates forward-looking strategic decisions and paths toward customer discovery when forecasted using predictive analytics. In everyday application, this means that CLV can enable customer segmentation, strategically-guided marketing investments, enhanced sales forecasts, personalization, and churn mitigation through the retention of profitable customers.
Enhanced CLV With Dataiku
Dataiku's Customer Lifetime Value solution is designed to address these very practical andnecessary applications for business users, enabling companies to develop their understanding of their customer base, build customer segments, forecast customer lifetime value, and integrate all of the above in their sales and marketing strategies.
The solution is easy to install and set up on your Dataiku instance. It comes with a ready-to-use dashboard that allows you to accelerate insight-building and consumption, run analyses, share results across teams and among stakeholders to inform conclusions.
Let's take a look at some of the Customer Lifetime Value solution highlights in more detail:
Input transactional data to analyze your customer base distribution.
Build customer segmentation clusters based on value-spend (High, Medium to Low CLV).
Compute average CLV increase per month to capture monthly dynamics.
Predict the future lifetime value of your customers and assign clusters (high, medium, low) based on customer average monthly spending using quantile or k-means clustering.
Visualize outputs for technical and business professionals that help to identify marketing channels with the most valuable customers or unlock visibility to High CLV customers in order to maximize monthly recurring revenue (MRR), and embed CLV forecasts into key business decisions that drive sales, marketing, product development and customer support.

Solution Key Features
The adapt-and-apply solution is easy to adjust and fine-tune according to the project's needs. Here are some of its key features.
Plug & Play With Your Own Data via Dataiku App
Upload the data or connect to Snowflake / Google Cloud Platform via Dataiku App. App allows you to enrich data with RFM scores.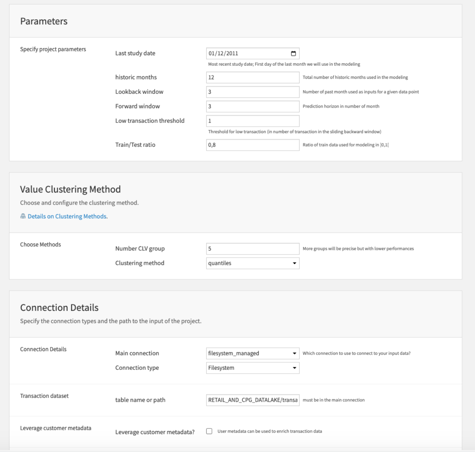 Data-Driven Insights
A ready-made project with clear flow zones turns transactional data into actionable insights about the current and future value of your individual customers so that you can optimize your customer engagement strategy.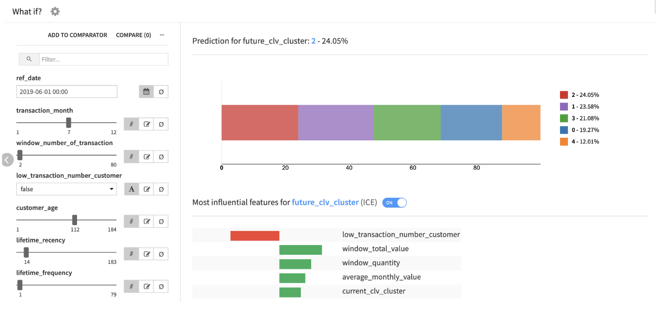 Understand your CLV and Customer Clustering
Get a quick and shareable view of your existing customer lifetime value as well as the current and predicted cluster (high, medium, low).
Predict Future CLV and Optimize Your Marketing Budgets
Predict the future customer lifetime value by using several different approaches that can be chosen to best-fit customer data and needs. Analyze the CLV of your top-ranked customers and compare it to other clusters.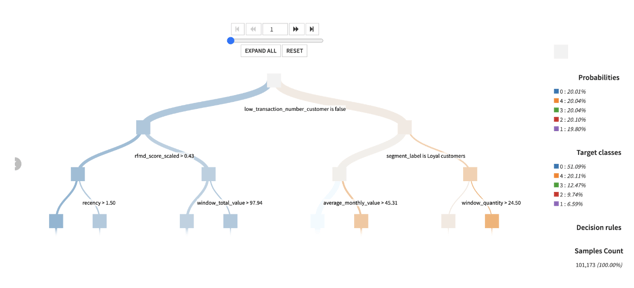 Verify the CLV Dynamics per Cluster Along Different Time Periods
Leverage business and validation dashboards to track and analyze the Customer Lifetime Value in different clusters and perform a "what-if" analysis - change customer specific characteristics and play with optional RFM scores.