Today, we're very proud to announce that Dataiku achieved the AWS Machine Learning Competency status. Why, you ask? Well, our mission is (and always has been) to enable all enterprises to become large-scale data innovators, and this is just another step toward that goal.

What Is the AWS Competency Program Exactly?
The Amazon Web Services (AWS) Competency program is designed to highlight AWS Partner Network (APN) Partners who have demonstrated technical proficiency and proven customer success in specialized solution areas - specifically in the ML/AI area in the case of Dataiku (and part of the Platform Solutions segment).

What Does That Mean in Practice (i.e., How Does Dataiku Work with AWS)?
Dataiku offers several integrations points with the AWS products, including:
Connectivity to Amazon S3 to store and access to large amounts of structured or unstructured data.
Connectivity to Amazon Redshift to perform interactive analysis and aggregations of large datasets using a SQL interface.
Connectivity to Amazon EMR to run large-scale data transformations jobs using MapReduce or Spark, or train machine learning models using MLLib.
The bottom line is that these integrations ensure that our customers will be able to build and deploy new data products more efficiently. They can leverage Dataiku to have data scientists and beginner analysts collaborate within a unified framework for both development and deployment of machine learning projects, all running on top of the AWS platform for its elasticity, simplicity, and scalability.
Dataiku + AWS Success Stories
You'll be excited to hear that DAZN, a subscription service owned by Perform Group dedicated to live and on-demand streaming of worldwide sporting events, is just one customer already benefiting from these integrations. DAZN turned to the combination of AWS and Dataiku for simplicity in setup, connection, integration, and usability.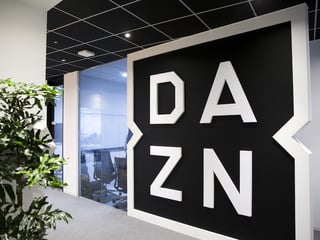 DAZN turned to AWS and Dataiku for simplicity in setup, connection, integration, and usability.
Their small data team built and now manages more than 30 models in parallel, all without needing to do any coding so that the processes are completely accessible to non-technical team members (read the full success story!).
Coming Up
Dataiku running on top of the AWS platform and leveraging AWS products is a powerful combination, offering the ability for our customers to innovate more quickly by creating new scalable and secured data products. Achieving the AWS Machine Learning Competency is a key milestone for Dataiku, and this proves our continued commitment to working closely with our ecosystem to offer the best experience possible for our customers. Stay tuned for what else we have in store!