Last year, Dataiku's Everyday AI conference series touched down in many corners of the globe — from London and New York to Bengaluru and Paris (and we're excited to revisit some of those cities later this year!). To continue that momentum, we decided to replicate the success we saw at our flagship events and take the conference on the road, bringing together the best thinkers and doers from the worlds of business, technology, academia, and nonprofits in cities like Chicago and Sao Paulo and soon Atlanta and Toronto.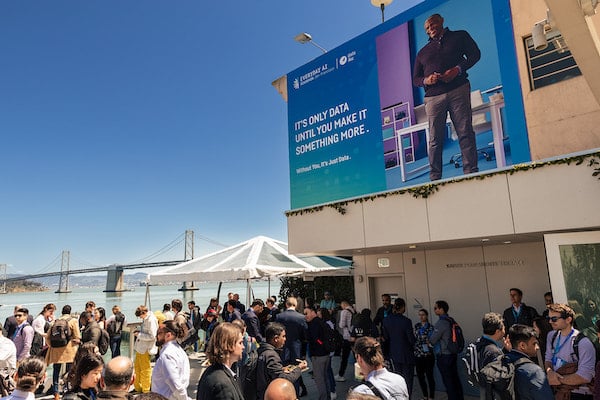 We just recently had Everyday AI San Francisco on April 19 and gathered a stellar speaker lineup from a vast array of backgrounds, industries and, of course, approaches to responsible, replicable Everyday AI. Here, we're going to highlight the top five ways we saw Everyday AI take the stage at Everyday AI San Francisco. What exactly do we mean by that? We've compiled our favorite quotes from the day that exemplify how data, analytics, and AI leaders and practitioners alike can enable a use of analytics and AI so natural that it becomes part of our everyday lives — just like electricity or computers.
You're not going to have your 500 superstar data scientists answering all the questions of the other 59,500 technologists at your company. You need to allow these other folks to do advanced work with their data."

- Jed Dougherty, VP Platform Strategy, Dataiku
In the session "Making Everyday AI a Reality," Jed highlighted three pillars for any organization to follow when looking to give those other 59,500 non-data experts a seat at the table when it comes to analytics and AI projects:
Acceleration of data initiatives (both creation and management)
Democratization of data access and usage
Trustworthiness and proper governance as AI scales throughout an organization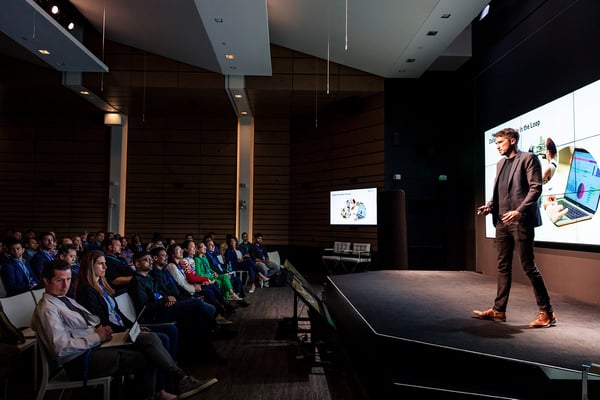 In other words, in order to get to Everyday AI, teams need to generate value with their data faster, and do so in a safe, governed, trackable manner. Dataiku puts humans in the loop by giving people with various skill sets and technical comfort access to build on their company's data (wherever that data is and whatever the underlying infrastructure is). It helps accelerate AI creation and management via Dataiku Cloud, as well as modular components, integrations, and vertical solutions so teams can plug and play their data for instant results, while being flexible enough for in-depth adaptation over time.
Finally, Dataiku helps teams build trust in AI projects and programs through AI Governance best practices such as reviews and model sign-off before production, transparency and explainability features, and seamless collaboration across business and technical teams. At the core of democratization, acceleration, and trust are the people: We need to enable them, give them the tools to do so, and have them confidently trust the process and be able to explain what they've built.
You can't just sit there and crank through data (which we love to do!) but we have to really tell a story."

-Renee Canfield, Data Modeling Manager at Experian
In the panel "Efficiency and Value: Balancing Without Sacrificing," the discussion centered around the delicate balance of scaling quality AI projects without compromising — you guessed it — efficiency and value. Alongside Renee (who stated the quote above), the panel included Julia Kosheleva-Coats from Salesforce, James Zhu from Palo Alto Networks, and Dataiku's Global VP of Sales Engineering Erin McGowan as moderator.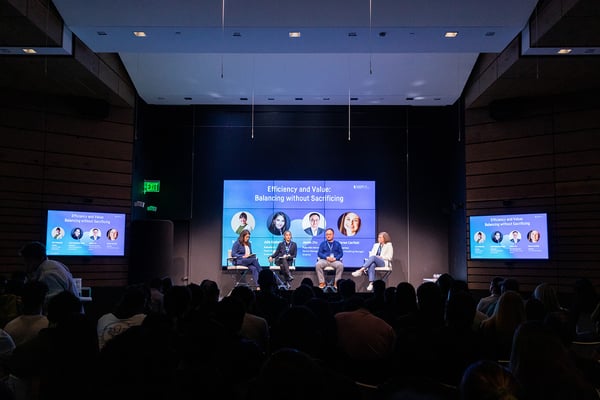 Renee's response ties nicely to Everyday AI because it really highlights that your audience matters — your value is only measured in how people consume what you've put together in a given analytics or AI project. After all, in order to realize real business value from a project, the app or model must not sit on the shelf — it needs to be operationalized and used! Data, analytics, and AI leaders need to pre-empt how they communicate, work with the business, and improve their overall value in order for teams to get anything out of their data.
Business users matter and should have a voice, so it's important to bring them into the project from the beginning in order to ensure alignment each step of the way. This sentiment was echoed by James and Julia on the panel as well, demonstrating that, regardless of industry or use case, the consumers of your projects matter.
My mom said to me, 'You should think about [data and AI] like we think about fire and water. Sure there are fires, sure there are floods, but it's essential to our lives, so stop being such a downer."

-Tony Ko, Managing Director, Global Data, Analytics, and AI at Slalom
Next up was Tony Ko from Slalom, a Gold Sponsor at the roadshow, in a session titled "The Shift From Cloud-Native to Data-Native." In a delightfully charming opening anecdote about a conversation with his mother, Ko shared the parallel his mom drew to data and AI becoming as ubiquitous as fire and water — sure they have risk, but with the right guardrails in place, we can mitigate that risk.
In a discussion centered around the massive growth of cloud in recent years, Ko honed in on the measurable outcomes that the cloud has for the enterprise, both from a technological modernization and organizational evolution lens. When shifting from a world that's implied cloud-native and becoming more focused on "data-native" (meaning a software application or enterprise tool designed with data as its core element, prioritizing embedded automation and intelligence that improves over time and at scale), Ko argues that we would start to see more empowered users, with productivity moving beyond the pace we've ever imagined before.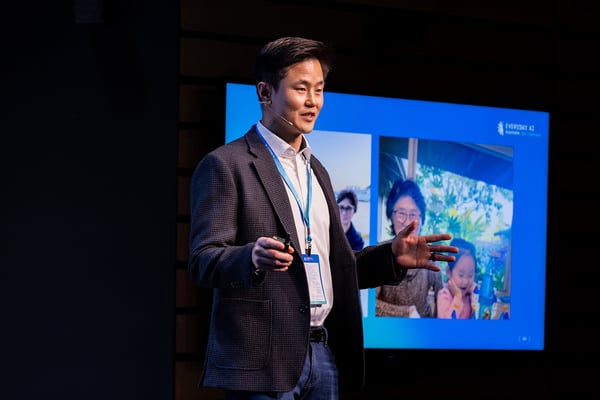 So, how can organizations take advantage of the mindshare attention that they have from non-data experts (hearing about topics like Generative AI all over the place) to get more and more people involved? Slalom's Modern Culture of Data framework includes pillars like access and transparency, data literacy, and guardianship to accomplish this.
Automating the risk assessment process … created this continuous nature, which is the bread and butter of audit — if you can identify risk and then adapt to that, you'll be seen as a valuable business partner within the organization, changing the image of audit internally and what that's traditionally been."

-John Montgomery, Corporate Audit Data Analytics Lead, Boeing
In a session titled "Rebuilding Rome: Transforming Boeing's Audit Processes From the Ground Up," John Montgomery shared insights about how, as part of a company-wide initiative, Boeing's audit team was given the monumental task of completely automating and reinventing their risk assessment processes using analytics and data science. Facing archaic systems, siloed data, and a high risk profile, the corporate audit team had to build a strategy that was trustworthy, governance, and scalable.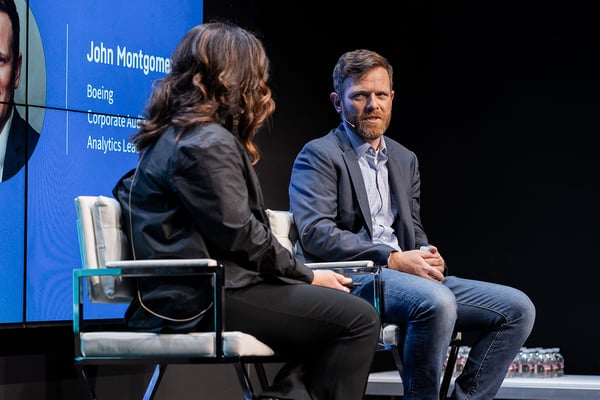 A key takeaway from John is that establishing your team as a partner is key. Automating the processes (i.e., transforming a 500-people-hour task into an ongoing, automatic report) helped the team reprioritize, rebrand, and shift to being viewed by the rest of the organization as a business partner. As we often say at Dataiku, a key element of Everyday AI is building trustworthy systems that make stakeholders want to engage and collaborate with you.
When it comes to conversations about identities, most of us would be in our comfort zones if we just never had them. I am going to encourage you to do the exact opposite. Instead of ignoring and denying our biases, we must create spaces where we actively assume and explore them. Are you ready to be brave?"

-Dereca Blackmon, President of the Inclusion Design Group
A unique highlight of Everyday AI San Francisco was the Women in Data Science (WiDS) breakfast, featuring talks from women that highlighted their work in the analytics space as well as topics spanning from career development to diversity in data science.
Dereca Blackmon, our final speaker of the event, presented a talk on "Diversity and Inclusion in Data Science," underscoring the theme that everyone is an active participant in their organization's commitment to diversity. Diverse, equitable, and inclusive workforces are no longer an option, but table stakes to navigate the future of work successfully. If teams step out of their comfort zones, they will be able to cultivate spaces that encourage this sort of creativity and diversity to allow not only themselves to flourish, but their organizations as well. At Dataiku, we firmly believe that organizations won't scale AI without enlisting a diverse group of people to the cause and Dereca reinforced that notion.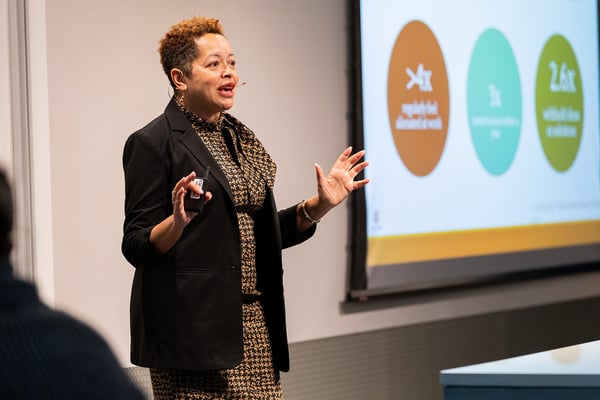 The Goal: Augment Every Decision With AI
At each Everyday AI conference, the technical topics, panelists, industries, and use case success stories always massively differ. However, our core belief remains the same as it was 10 years ago when Dataiku was founded: Organizations need to learn to augment every decision, process, and product with advanced analytics and AI.
And for AI to augment every decision, it needs to be embedded at the heart of everyone in the organization's activity. It is our hope that the conference attendees took away some best practices, tips, and tricks to navigate the barriers to the use of AI so that it becomes ingrained in all we do. We hope to see you at the next one!