Whether it's strengthening collaboration through data democratization, accelerating the time to realize value, or enabling organizations to develop AI capabilities that they can trust, teams and individuals across industries leverage Dataiku to harness the power of data, with results that can be truly transformative.
Each year, we celebrate the achievements of these extraordinary people through the Dataiku Frontrunner Awards, which collect and share the pioneering use cases of data science practitioners and leaders from around the world.
Continue reading to discover how last year's winners empowered themselves and others using Everyday AI, and find out how you can enter your own submission to the 2023 edition of the competition.
About the Dataiku Frontrunner Awards
Hosted annually on the Dataiku Community, the Dataiku Frontrunner Awards were created to recognize the achievements of all Dataiku customers, partners, nonprofits, academics, and individual users. Open to both teams and solo practitioners, users are invited to submit their use case or success story to share their innovative work with the wider data science community.
Winners and finalists are determined by a panel of judges composed of Dataiku executives as well as independent industry experts.
Benefits of participating in the Dataiku Frontrunner Awards include:
Gaining recognition as a thought leader: Communications and speaking opportunities enable winners and finalists to gain visibility in the industry, while all participants get exposure on Dataiku's networks.
Celebrating your individual and team success:

Inspire others by sharing your achievements and the value you have generated, either individually or collectively.

Enhancing your employer branding:

Showcase your innovation within the data science community and entice the best and brightest talents to join your organization and contribute to your success.

Winning special prizes and swag:

Winners are offered a unique trophy and special Dataiku swag to thank them for their contribution to knowledge sharing.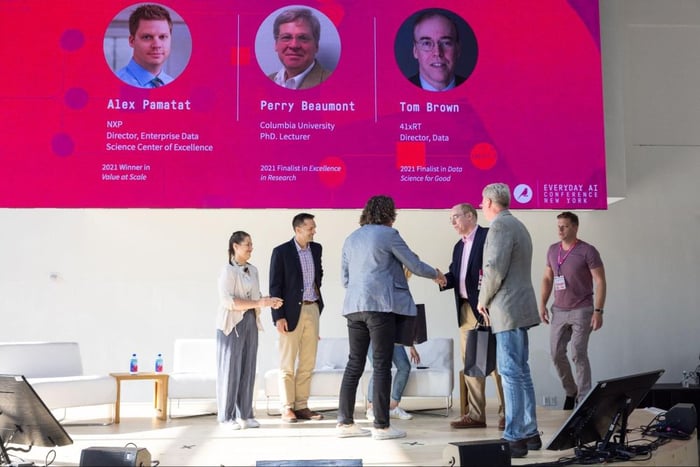 Tom Brown (41xRT), Perry Beaumont (Columbia University), and Alex Pamatat (NXP) were recognized onstage at Everyday AI New York for their contributions to the 2021 Dataiku Frontrunner Awards
2022 Winners and Finalists
The first two editions of the awards collected over 120 detailed use cases and success stories that reflect the increasingly diverse ways in which Dataiku is being used to harness the power of data and generate value. Discover a few of the winning entries from last year's edition below, which explore how users are leveraging Dataiku to pave the way across industries.
Leveraging ML-Based Forecasting at Australia Post
At Australia Post, James Walter and his team developed a pioneering shift volume forecasting algorithm in Dataiku that provides facility operators with daily shift volume forecasts and translates this information into staffing requirements. This helped them empower managers to make decisions regarding the need for overtime, resulting in significant operational dollar value savings.
This project is highly innovative, novel, and transformative within Australia Post, as it is bringing real-time forecasts to users at our facilities, thus enabling a level of real-time and data-driven decision-making that has not been possible to date. In short, operational decisions can now be made in a timely manner as required by the time-constrained daily cycle of our network operation teams." - James Walter
Fostering Collaboration at ALMA Observatory
Dataiku's first-ever volunteer project brought together 14 users from around the world to collaborate and learn from each other's experimentation, supported by Dataiku data scientists and staff members from the ALMA Observatory. Led by Data Science Initiative Lead Ignacio Toledo, it aimed to resolve one of the observatory's major data-related challenges relating to the quality checks of its observations.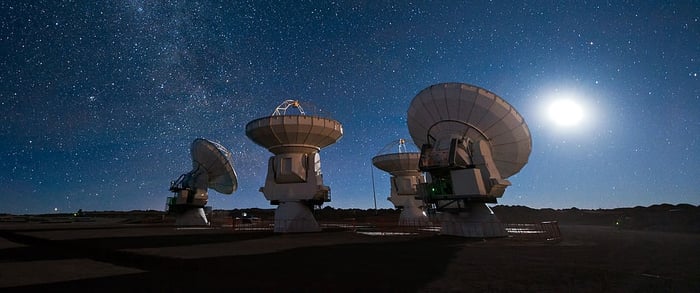 Dataiku was pivotal to enable volunteers and observatory staff with different skills and backgrounds to collaborate on a single visual, accessible interface. In addition to the main project, which served as the central knowledge hub for the challenge, each participant created their own personal projects, so they could experiment in a sandbox environment, connecting to the datasets as needed to complete their tasks with their preferred technologies and techniques. All these projects were available for other participants to peek in, so they could learn from each other and help out when asked." - Ignacio Toledo
Increasing Efficiency at Wipro and Aviva
To address the IT operational challenges of large organizations and help streamline the existing processes, Mitesh Chandorkar and his team at Wipro, alongside the Aviva team led by Simon Sinfield, set up the Digital Operations Management Engine, which allows for historic incident management data and log details to be analyzed to better understand the current IT operations. The partnership was born with an aim of enhancing incident management, improving service availability, acting ahead of major disruption, increasing operational efficiency, enhancing customer experience, and reducing repetitive manual decision-making tasks, all the while using Dataiku as the backbone of their solution.
The engine enables the support staff to consider why any given issue keeps occurring and fix it permanently. The solution increased operational and resource efficiency through root cause labeling for the incoming incident. It provided the benefit of circa 200 hours in effort per month (Resource Efficiency) and circa 700 hours MTTR (Mean Time to Resolution) savings per month (Operational Efficiency)." - Mitesh Chandorkar
Participate in the 2023 Dataiku Frontrunner Awards
Following the success of the competition in 2021 and 2022, we're pleased to announce the launch of the third edition of the Dataiku Frontrunner Awards, with entries open from now until July 1, 2023. This wouldn't have been possible without the support of participants from past years, whose valuable contributions continue to inspire others to push the boundaries with Dataiku.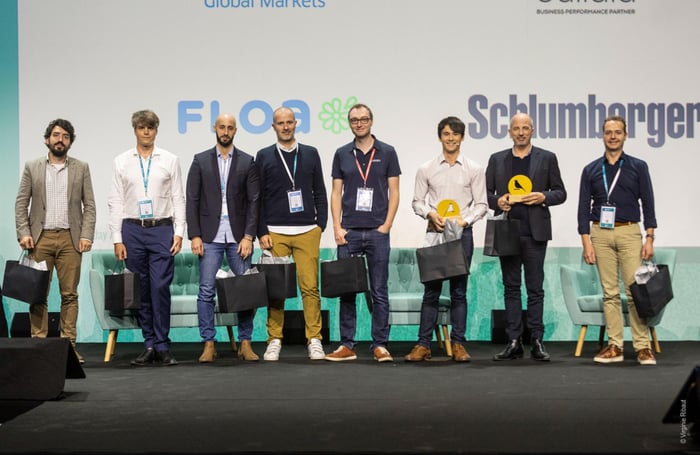 Several winners and finalists from the 2022 edition of the awards were recognized onstage at Everyday AI Paris. From left to right: Emiel Veersma (One Acre Fund), Valerian Guillot (SLB), Yasine Meridja (ENGIE), Stephane Raguideau (ENGIE), Arnaud Canu (Eulidia), Brivael Collin (The Ocean Cleanup), Craig Turrell (Standard Chartered Bank), Laurent Hamentien (FLOA)
While the format for the competition has largely stayed the same, several categories have been added to better encompass the increasingly diverse applications of Dataiku. In addition to general categories, which are relevant to all industries, there are also now tailored recommendations put in place that specifically apply to different types of organizations, such as partner, academic, or nonprofit.
Another noteworthy change relates to our winners. In addition to those determined by our jury, this year we'll also have a special winner for "Community Choice," who will be selected based on which submission receives the most votes from Dataiku Community members.