Have you ever considered getting your previous job back? Or at least returning to a company you left? Dataikers Mike, Judith, and Maxime not only considered this opportunity, but seized it!
At Dataiku, our goal is to build an unconventional company where people want to work forever. And, if in some specific cases this means Dataikers taking a step to the side to explore something different before joining us again, then we're open to it. But what motivates such a decision? Does it feel the same joining a second time? What is it like to be a so-called "boomerang employee" (an employee who voluntarily leaves a company but later comes back and returns to work with the same company again)? We met with "boomerang" Dataikers Mike, Judith, and Maxime to find out!
Mike, Strategic Account Executive, London, U.K.
"I joined Dataiku as an Account Executive in Singapore after a few years of experience in tech sales. I grew into an Enterprise Account Executive at the company and very much enjoyed my time selling at Dataiku but, after a bit less than two years, I was offered a great opportunity externally and decided to leave. In fact, I never fully left. There was always a great amount of respect and admiration for the Dataikers and leaders, so we always kept in contact. Dataiku is a unique place to work and I realized how special it was once I had left. I missed the culture, the people, and the mutual trust and respect in the leadership.
I am grateful for the experience I had outside of Dataiku, but when the opportunity to come back presented itself, I couldn't wait to get started. I feel fortunate to be part of this rocket ship again and the way I was welcomed back demonstrates the true value and culture within Dataiku.
In the meantime, not much has changed except the successful growth in the company and the many new people that were hired prior to my initial departure. I rejoined six months ago and I'm very happy to be back and excited to be part (again) of this great company's continued success and strong culture."
Judith, HR Generalist, Remote, Germany
"I'm technically joining Dataiku for the third time this month! I first joined the company in Paris in 2019 to support the Talent Acquisition team as an intern, then was hired full time as part of the Learning and Development team in 2020, and I'm back today in 2022 in an HR Generalist role. After a difficult year with COVID-19, I decided to leave Dataiku at the end of 2020 to go back to Germany and be closer to my friends and family, as well as to pursue a Master's degree. I learned a lot and enjoyed that time very much, but Dataiku was also never too far from me. Many colleagues had become very close friends and we kept in touch via messages, went on a hiking trip and even had Zoom calls to play virtual board games from time to time.
This new role perfectly combines my experience of the last four years in the various fields of a typical People team. I already know my team very well, so it just feels like everything had its reason and the right timing!
As I just started again, from Germany this time, it's hard for me to say how the company has changed. However, I received so many kind "welcome back" messages on my first days that I already know that some key elements of the company culture I used to like are still very much alive."
Maxime, Engineering Manager Dataiku Online, Paris, France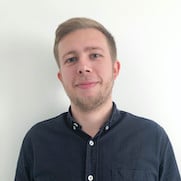 "Dataiku was my very first work experience - starting as an intern, before becoming a full-time employee. When I joined the company in 2015, it was then a two-year-old startup made of a close-knit team with lots of ambitions for the future. I enjoyed being a data scientist a lot, especially as I got to discover the Dataiku platform and work on many different customer projects but, after a few years, I felt like experiencing work at other companies. I also wanted to broaden my skills and move from data science projects owned by the customers to projects I would own myself. It was a hard decision, but looking back, I grew a lot from this experience.
However, I always remained a fan of the Dataiku product that I was still using from time to time and could see evolve over the years. I was also able to stay connected with Dataikers and even attended some of their Christmas parties as a guest. When I discovered that the team was looking to hire software engineers to build the Dataiku Online platform in 2020, it was a no-brainer.
I somehow rejoined a startup within the scale-up. The company had grown drastically and was way more structured than the one I had left, but the process also felt quite smooth because the philosophy of the product was exactly the same and some familiar faces were still around. I have now grown into a management role and am happy to share my knowledge and enthusiasm about Dataiku with my team on a daily basis."