Like all customer-facing industries, consumer banking faces myriad marketing and product challenges, including increasing competition, growing customer experience expectations, and increasingly targeted and personalized offers. Add to this the difficult feat of keeping up with the rapid pace of change: traditional mass marketing and email campaigns are being increasingly challenged by targeted, tracked, and conversion-modeled approaches — and banks are lagging behind. Today only 30% of banking customers report feeling they receive personalized banking products and services.
For this reason, many banks are turning to next best offer (NBO) approaches to customer interaction. NBO models use machine learning to analyze customer data and product mix to recommend products statistically more likely to see uptake. Beyond increasing customer experience, NBO allows organizations to take a key step towards improving marketing spend efficiency as well as advisory impact.
NBO for Intelligent Organizations
While every customer journey is unique, certain identifiable patterns emerge in the aggregate. Being able to track any given customer's path and make recommendations as to where they should go or what they should do next is a considerable advantage to financial services firms with many different products and services to offer. Platforms like Dataiku empower organizations to make the most of their customer data in precisely this way, allowing them to predict what customers and clients will want to see or do next by comparing unique journeys against historical customer data.
Morgan Stanley Wealth Management, for example, augments their financial advisors with an AI-based next best action system that gives them possible actions to consider recommending to their customers. Every day, the system looks at every single client in an advisor's book of business, evaluates over 1,000 investment ideas and events that might impact clients, and scores every possible combination against the propensity the client will experience or benefit from in regards to that event or idea, in order to offer exceptional service and value.
Morgan Stanley has been able to craft what Jeff McMillan, Chief Analytics & Data Officer at Morgan Stanley Wealth Management, refers to as an intelligent organization. An intelligent organization applies a formula for success that ultimately extracts the most value out of augmented decision making, relying on the combination of AI insights and human intuition. Dataiku's platform supports this formula, and in marketing and sales specifically, allows companies to deliver the right message to a client through the appropriate channel at the right time with the systems powered by the software.
An Elegant Solution to a Complex Problem
Dataiku offers a plug-and-play Next Best Offer solution to data teams looking to increase product uptake among their customers. The solution offers the user the ability to rapidly identify customers with the highest propensity to cross-sell on a given product, adopt the next best offer recommendations in daily sales motions and integrate within a streamlined marketing mix allocation workflow. Users will also be able to understand the demographic and product mix disposition of their complete product portfolio.
Here are some of the solution highlights:
Rapidly identify customers with the highest propensity to cross-sell on a given product and quickly generate lists of customers to engage on specific campaigns thanks to fully explainable machine learning models.
Enable customer-facing sales and advisory teams with ready-to-use next best offer recommendations to use in their daily sales motions.
Easily scale usage of Next Best Offer across activities, brands and geographies thanks to a user-friendly Dataiku Application accelerating business adoption.
Integrate within a streamlined marketing mix allocation workflow coupled with enhanced customer portfolio product mix and revenue data insight.
Solution Details
The Next Best Offer solution plugs right into your Dataiku instance, allowing you to start sorting, listing, and targeting customers in minutes, not hours. Here are some of the key benefits.
Get Started in a Few Clicks
Use the step-by-step Application to quickly load your customer product data and customer data, easily set analytic parameters, and generate immediate and actionable results.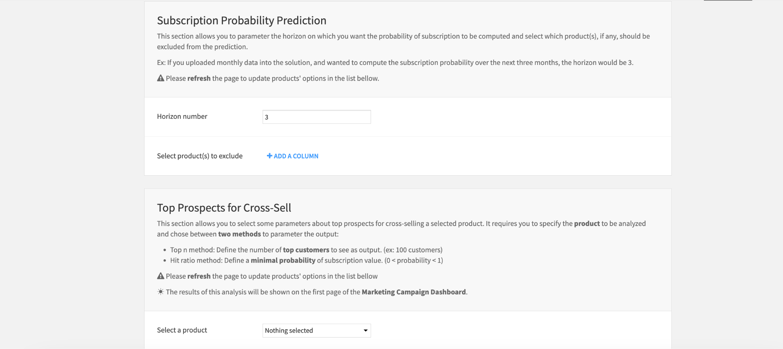 Transparent Design and Customization
Extensive documentation, fully open code, coupled with in-built diagnostic tools allow the user to have full confidence in each step of the process.

Predict Customer and Campaign Revenue Gains
Easily understand the probabilities of cross-sell for each product at the individual customer level alongside powerful estimates of potential revenue gain, allowing precise and efficient allocation of marketing spend.

Generate Targeted Prospect Lists
Create high value lists of top prospects for cross-sell per product, measuring probability to purchase and expected revenue gain from direct and indirect cross-sell, for precision marketing return on investment.

Rapid and Comprehensive Customer Analysis
Understand the demographic and product mix disposition of your complete product portfolio, split by segment and vintage.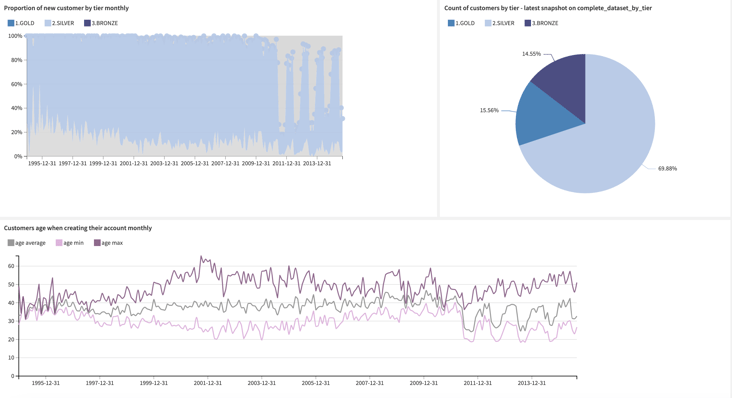 ML Governance and Responsible AI
Appropriately govern and analyze your model for fairness, compliance and effectiveness over time.