In this article, you will see how One Acre Fund, an agriculture non-profit based in East Africa, leverages Dataiku's end-to-end data science capabilities to increase its operational efficiency by identifying farmers at risk of defaulting on their seasonal loans.

Digging Into the Problem Statement
One Acre Fund offers smallholder farmers an asset-based loan that includes:
1) Distribution of seeds and fertilizer
2) Financing for farm inputs
3) Training in agriculture techniques
4) Market education to maximize profits
Each asset-based loan is around $80 in value and includes crop insurance to mitigate the risks of drought and disease. The organization has grown exponentially in the past decade from serving 30,000 farmers in 2010 and 400,000 farmers in 2015 to over 1.5 million farmers in 2021.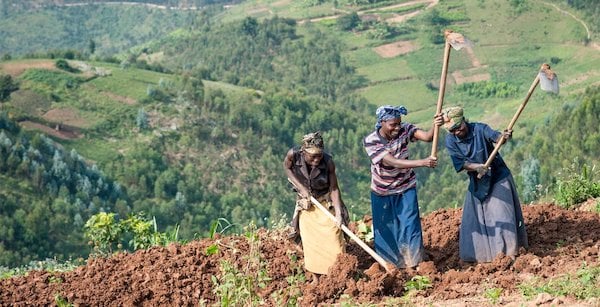 To receive the One Acre Fund loan and training, farmers must join a group with six to 15 other farmers, which will be supported by a local One Acre Fund field sales agent. Field sales agents meet regularly with the farmer groups to coordinate delivery of farm inputs, administer trainings, and collect repayments.
Historically, One Acre Fund has relied on their field agents to visit farmers with low repayment rates to understand why they are falling behind and advise on a repayment strategy. Without knowing ahead of time which farmers are at high risk of defaulting on their loans and which farmers are just waiting to repay their loan at the end of the season, field sales agents end up visiting many farmers that were never likely to default.
This process is resource intensive, as farmers live kilometers apart and field sales agents need to walk or ride a bicycle between farms. As the organization has scaled, it has come to the realization that it needs a more cost effective and accurate way to identify the right clients to contact with repayment reminders.
How Did One Acre Fund Solve This Problem?
One Acre Fund began using Dataiku in 2020, through the Ikig.AI (Dataiku for Good) program, which gives Dataiku to nonprofits at no cost. The platform immediately addressed key challenges One Acre Fund was facing when developing data science solutions. Historically, the organization had relied on data scientists to develop and maintain solutions locally on their machines. These solutions were written with code with low interpretability and without the required infrastructure, so they could not easily be scaled across their full operations.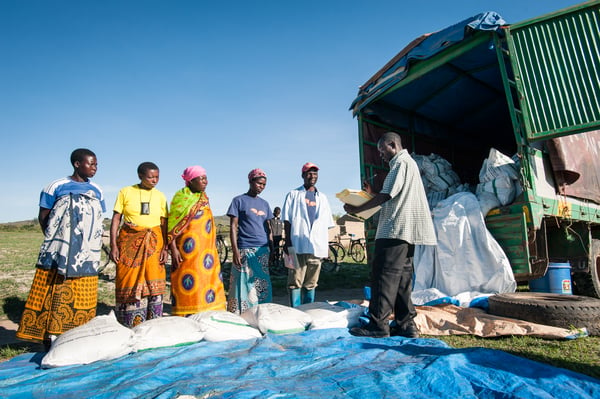 Dataiku has allowed the organization to centralize all of its data science solutions onto the platform, document these solutions to increase their interpretability, and operationalize them through the platform's Automation and API nodes.
To solve their farmer repayment problem, One Acre Fund developed a random forest machine learning model to predict the probability of repayment for every farmer enrolled in the current planting season. The model is built off of repayment data from previous planting seasons and enriched with historical rainfall data, client demographic information, and seasonal products data. The model is retrained weekly as additional farmer repayment data is collected. Results of the model are output to Microsoft Power BI for review by country sales teams and shared with field sales agents in their weekly work action reports.
Dataiku repayment prediction project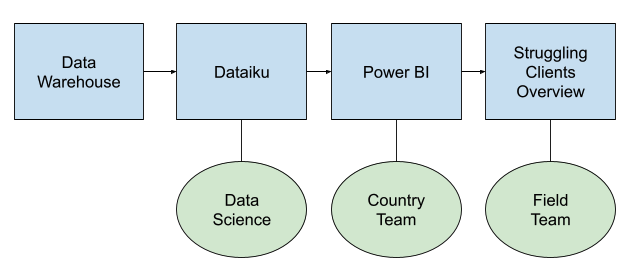 Data flow for the solution
In the 2021 planting season, the Kenya program was able to contact 180,000 farmers identified at risk of defaulting on their loan. Nearly all (97% to be precise) of these farmers pledged to make a payment in the coming week. Farmers who made these pledges on average paid more than they pledged to do so.
Solutions like the farmer repayment prediction model, enabled by Dataiku, allow One Acre Fund to scale its operations efficiently. Dataiku has also delivered a positive staffing impact for the organization by providing a platform to efficiently onboard new technical staff and upskill existing team members and stakeholders. Over the coming months and years, One Acre Fund will continue to leverage Dataiku to operationalize new data science initiatives, further increasing its impact on smallholder farming families in East Africa.
Find out more about the great work One Acre Fund is doing with Dataiku via their Dataiku Frontrunner Awards submission and find out more about Dataiku's Ikig.AI program here.