Well actually, if you ask us, every month is a great one for talking about data governance. But this month, we wanted to take a special deep dive and focus into one of the most important topics faced by enterprises (and especially CDOs and IT teams) today.

What Do You Mean, Data Governance?
When we here at Dataiku talk data governance, we mean - at the most basic level - the processes and systems that are in place at a company to ensure that:
Data is high quality and usable. That is, all data that the company needs should exist, be trusted (meaning, by nature, accurate), and (importantly) be able to be used. And we don't mean by some convoluted process that takes days, weeks, or months. Data governance means that the data any individual or team needs to do their job can be readily used in a reasonable time frame. That time frame depends, to some extent, on the nature of the business, but ideally it's close to real time.
Data is secure. Providing appropriate access to high-quality data that everyone trusts to use for decision making is certainly important, but that's not all of what data governance encompases. It also means ensuring that data is secure so that no one has access to data he shouldn't (whether internally or externally).

Why Now?
Well, for one thing…
GDPR
The EU General Data Protection Regulation (GDPR) is looming, its deadline for compliance and enforcement approaching on May 25. (Not ready? Don't panic, we've got a white paper for that). Most of the challenges surrounding becoming compliant are really standard data governance challenges that, even if your company is not legally required to comply, everyone should be doing anyway. By the way, if you're not already aware, it's not just for Europe; Fortune recently confirmed that GDPR will likely drastically transform US businesses.
The AI Revolution
But besides regulatory pressure, 2018 has been lauded the year that AI will really come into the mainstream by many news outlets (here's just one recent example). And the fact is, it's not possible to start executing on enterprise AI at scale without solid data governance practices. Imagine trying to build large-scale data projects without having designed for data quality, without empowering anyone to access data they need when they need it, or with a staff that's ineffective because they're not able to reuse work or properly monitor model performance.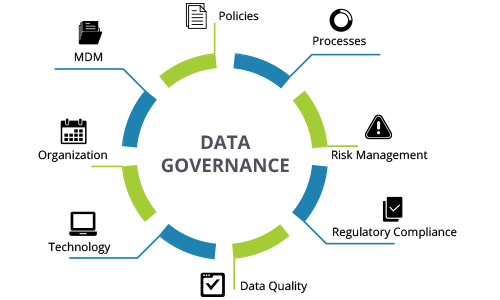 Join the Discussion
If you have something to say or resources to share on data governance strategies, connect with us on LinkedIn or Twitter! Use the hashtag #DataGovMarch to get the conversation going with the community - we'll be sharing our top tips here all month. Until then, read up on why data science tools can help facilitate data governance.