If there's one thing we've learned in the wake of the health crisis of 2020, it's that an organization's ability to quickly pivot operations to keep up with the changing world dictates success. At Dataiku, our agility was put to the test when we came to the decision that, in order to ensure safety for all, we had to transition our annual in-person EGG conference series to a multi-layered virtual experience for 2020.
With video meeting fatigue top of mind, we knew we wanted something more fluid and evergreen than just a one-day conference where attendees are encouraged to attend sessions for six to eight hours. We wanted to seamlessly bring together the AI community with opportunities to collaborate with experts, thought leaders, and practitioners online, no matter your location.
That is why we created EGG On Air, a new series of live online and on-demand events designed to help us continue our mission of informing, inspiring, and connecting people globally.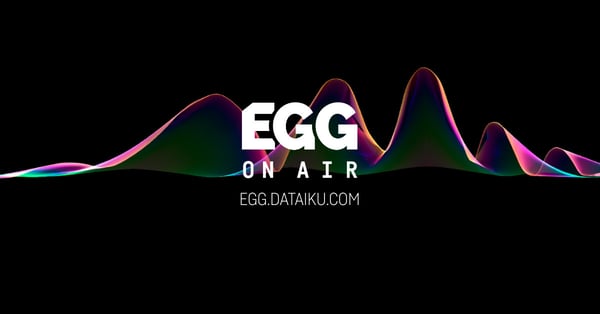 What Is EGG On Air?
Machine learning and AI aren't just about technology — it's the people that make the difference in developing AI systems that are cutting-edge, yet responsible and sustainable for the long haul. As "The Human-Centered AI Conference," EGG has always put the spotlight on the humans behind top companies who are making AI happen.
There are three main formats for EGG On Air, all designed to equip attendees with concrete next steps for shaping the future of AI in their own organizations:
Livestreams: Watch live as AI influencers, tech experts, business leaders, and more share their vision on topics such as Responsible AI and company transformation in the age of data.
Episodes: These exclusive, more in-depth sessions highlight industry experts and global influencers as they reveal firsthand stories inspired by the most pressing topics in Enterprise AI.
On-Demand Content: The EGG On Air content hub is your gateway to hundreds of keynotes, presentations, and sessions from global technology trailblazers and thought leaders, all searchable by topic and conference.
No matter the format, each session ties back to the notion that AI systems should enhance — not replace — humans and achieving full, Enterprise AI is not a turnkey process but rather something that takes fundamental and radical organizational change.
We're excited to officially launch EGG On Air on Sept. 15 with a keynote from Cathy O'Neil, author of the New York Times best-selling book "Weapons of Math Destruction: How Big Data Increases Inequality and Threatens Democracy." You can sign up for the session here to hear from Cathy about what's changed (and what hasn't) about data science in 2020 and how to build machine learning models in an ever-evolving world.
We are pleased to feature experienced data science and machine learning practitioners as well as AI thought leaders for talks that are inspirational, but also practical. New content will be added regularly, so be sure to follow along with us!