Escape rooms have become a go-to activity for team building events and other social gatherings — but did you know that you can build your own with Dataiku? A group of our finest data analysts and software engineers did just that, ultimately creating both an online and an in-person version of the game that set groups of Dataiku users of varying skill levels in a race against the clock to crack the code.
While initially conceived as a fun project to animate events, it ended up becoming a valuable learning tool. It enabled Dataiku users of all levels to discover new features in a fun, interactive way, while also giving them the opportunity to collaborate with their peers and leverage their respective skills and approaches to solve challenges together.
Continue reading to find out more about how the escape room was developed, the different occasions on which it's been played, and the numerous benefits of creating your very own escape room powered by Everyday AI!
Conception and Development
The inspiration for the Dataiku Escape Room initially came from Customer Operations Analyst, Nancy Koleva:
I'm a big fan of escape rooms, I find it really fun to work on a team to gather information and solve math and logic problems while immersed in a cool mystery or thriller atmosphere. I participated in a few escape rooms during various Dataiku team building events, and the way people leverage different skill sets at different stages of the game to solve one big puzzle reminded me a bit of the way users collaborate on a data project in Dataiku. The more I thought about it, the more Dataiku seemed like the perfect software to host a remote, real-time collaborative data challenge —– in other words, an online escape room!"
Online Version
When it came to developing the game, the first step was finding the right use case and the right data. As Nancy and her team had limited time and bandwidth for the first version of the escape room, which they were treating as a "proof of concept," they opted for practicality over originality and chose a sample retail use case that had already been used for Dataiku tutorials.
Next, they built the data pipeline and defined the questions that game participants would need to answer in order to "escape" the Dataiku flow. In the context of the chosen event, Dataiku Insiders Days, users would be working in teams, sometimes with people they hadn't met before who came from different backgrounds and had different levels of expertise in Dataiku and technology in general. They'd also have a limited amount of time to work together and find the solution.
I tried to find a delicate balance between the data tasks being relatively straightforward and fast to executive, while still being intellectually challenging enough to keep the audience engaged," says Nancy.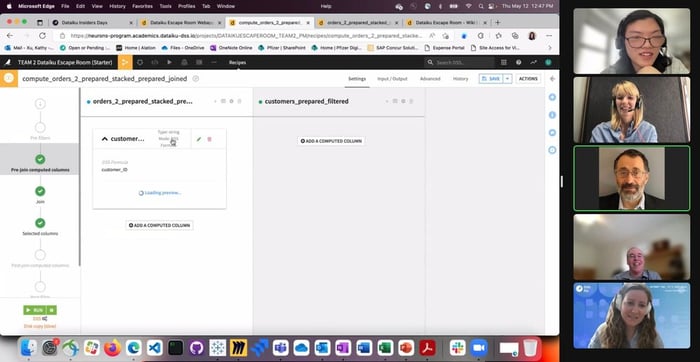 Participants came from a mix of technical and non-technical backgrounds and had to use their respective strengths to work together and solve the puzzle
Another key consideration was coming up with challenges that could be solved faster and easier than usual with smart Dataiku features. For example, in order to answer one of the questions, users would need to combine two differently formatted datasets containing retail orders into one. Normally, reshaping one of the datasets would require writing code. But with the use of a Dataiku processor in the "Prepare" recipe designed for this very purpose, it could be done in just a few clicks.
As this was the very first time trying to build anything like this on Dataiku, user testing was a very important part of the process, in order to make sure that the challenge was feasible within the timeline. And, most importantly, that it kept participants engaged the whole way through," explains Nancy.
To accomplish this, she and her team did an internal test run of the escape room. Around 20 Dataikers from both technical and non-technical backgrounds were split into teams of five to six people, play-tested the escape room, and shared their feedback. This helped the game developers to identify bugs and areas of improvement for the overall user experience before its launch.
In-Person Version
Through these internal beta testing sessions, the idea for a new-and-improved, in-person version of the Dataiku Escape Room was born. Henri Chabert, Lead Software Engineer at Dataiku, participated in the test run and enjoyed the experience, but thought it could be even better.
Henri thought that the retail use case was a good starting point, and that the collaborative format worked great, but that what we really needed for a truly immersive escape room was a good and intriguing story. Being both a fan of mystery novels and an experienced R&D engineer who knows the Dataiku software inside and out, he was the perfect partner to team up with and take the project to the next level," says Nancy.
Together, Nancy and Henri brainstormed different mystery, crime, and thriller scenarios and how they could be translated into a use case and data tasks that could be done in Dataiku. After going through a number of different genres and settings, Henri came up with the scenario they ended up choosing: a crime mystery on the Orient Express.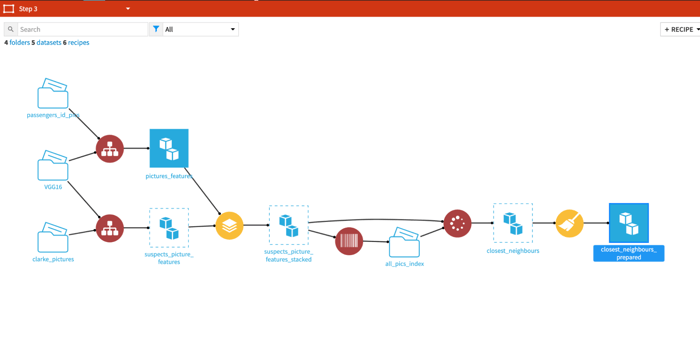 Part of the flow built for the crime mystery-themed escape room
The reasons for selecting this theme were numerous:
By having an escape room in which participants would need to analyze train itineraries and schedules to determine where and at what time the crime has taken place, Dataiku's geospatial analytics and visualization features could be showcased.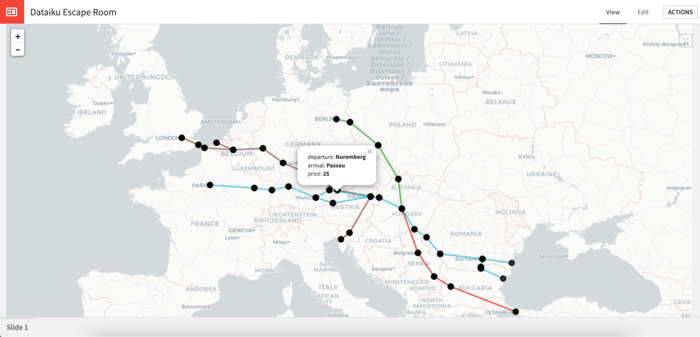 Map of the Orient Express train itineraries, built with Dataiku's native visualization/charting features
A lot of crime solving in the classical mystery genre has to do with gradually filtering out and limiting the number of suspects as the detective gets new pieces of information. The team thought it could be fun to recreate the iterative process in a Dataiku flow, where users can go back and add steps and filters to the visual recipes as they get new clues.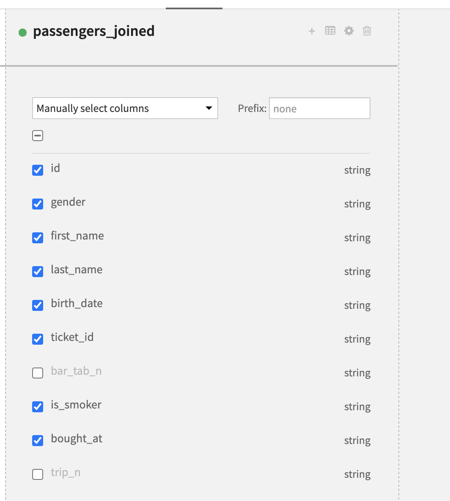 Players could use Dataiku to filter through passenger information and help identify the suspect
"Precious jewel stolen on a train" is a classic scenario that has appeared numerous times in novels, comic books, and other media. The team wanted to see how this situation could be approached differently if the detective had access to modern data science tools and knowledge. This resulted in a machine learning element being added, where participants need to use a Dataiku deep learning plugin to run the database of train passengers' photos through a pre-trained image classification algorithm.
The Evolution of the Dataiku Escape Room
Sneak Peek at Dataiku Insiders Day
After weeks of development, the online version of the escape room made its first appearance at Dataiku Insiders Days, an exclusive two-day Dataiku Neurons event that marked the expansion of the program from nine to 39 members.
Taking place during the grand finale, it sorted participants into small groups and tasked them with the same challenge: Work with your team to solve advanced puzzles within Dataiku, find the answers to the escape key, and get out before the others!
Interactive and high energy, it was quickly labeled an event highlight, providing an out-of-the-box way for program members to gain insight into how their fellow ambassadors work and use Dataiku. They also enjoyed the surprises integrated into the game, which included an adorable Easter egg that made an appearance at the end if they were lucky enough to escape before time ran out.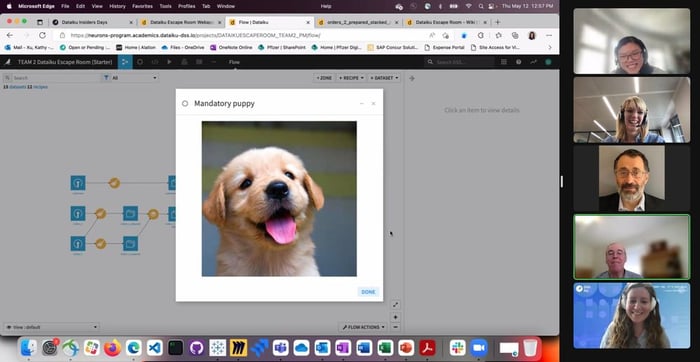 Successful escapees were greeted with a "mandatory puppy" pop-up
The initial run was also invaluable for its creators. "The first edition of the escape room at Dataiku Insiders Days was very successful, and the feedback from participants also allowed us to improve future versions," says Nancy.
Public Debut at Everyday AI Bengaluru Online
Following the successful sneak peek, the escape game was publicly unveiled at the Everyday AI Bengaluru Conference by Dataiku. Included in the online version of the conference, which was run by Dataiku Community, it was planned as a fun surprise in addition to live streams of the day's core sessions and tracks.
Following the same format as that used during Dataiku Insiders Days, it connected users of different backgrounds, with each contributing their own unique skills and work methods in a bid to solve the puzzles and escape the Dataiku flow before the hour was up.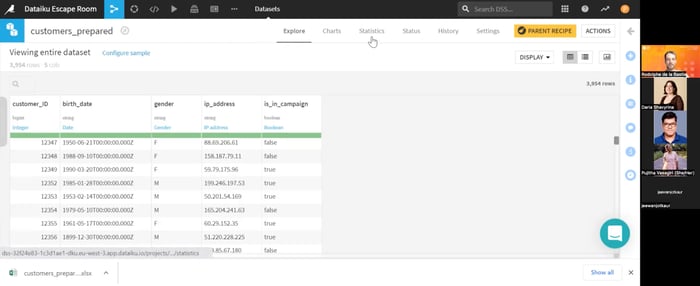 The Dataiku Escape Room was a hit with online attendees, who found it fun and immersive
From the Screen to Real Life at Everyday AI Paris
Henri and Nancy's idea for an immersive, crime mystery-themed game came to fruition at the Everyday AI Conference in Paris, where the Dataiku Escape Room made its public jump from the screen to real life.
Event attendees were taken back in time for a ride on the Orient Express, where a jewel heist had just taken place. There, participants embodied members of an investigative unit specializing in data analysis, tasked with inspecting the compartment and identifying the culprit before the train reached its final destination.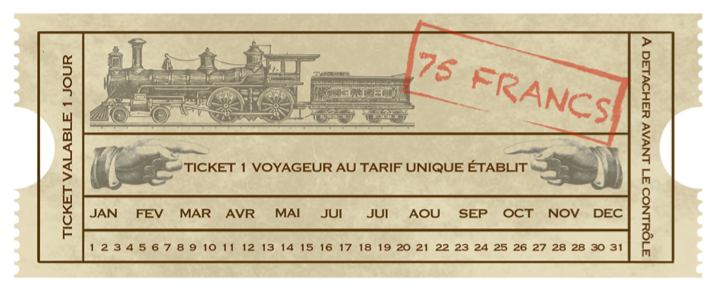 Ticket to the Orient Express — one of the clues in the escape room
What's more, each character found in the escape room — whether that be a suspect, thief, passenger, or one of the many fictional roles that participants could adopt during the game — was inspired by the History of Data Science, a virtual experience by Dataiku that showcases real-life historical figures and data science innovators.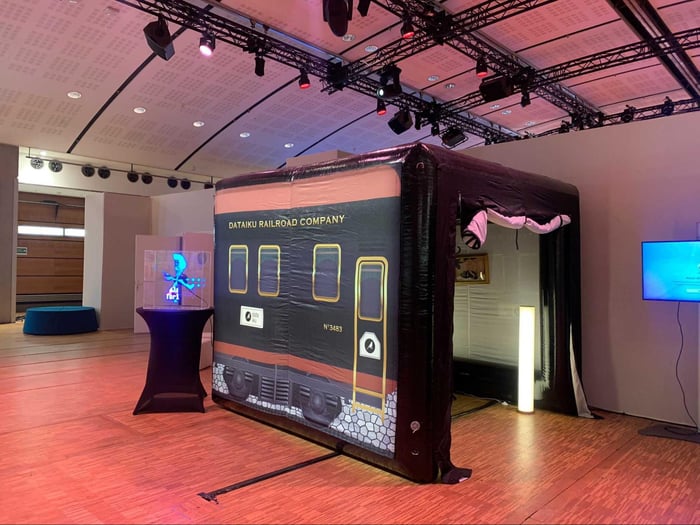 The Dataiku Escape Room set up at Everyday AI Paris
By discovering real-life clues and entering them into the software, participants combined their data science and practical problem-solving skills to reduce the passenger list and reveal the identity of the jewel thief.
The game was a hit, running at nearly full capacity during the duration of the conference. A total of 120 people, split into 30 teams of two to six players, participated, with 17 teams escaping the room in 20 minutes or less and an average time to completion of 19 minutes.
What really made the final version of the escape room at Everyday AI Paris a big success was the mixed format of Dataiku data challenge and classic in-person escape room elements," says Nancy. "The partnership with an agency specialized in escape rooms, Prizoners, was really valuable for this, as they helped us elaborate the scenario even better and create a fitting visual atmosphere, and the animators helped keep participants engaged with the story the whole way through."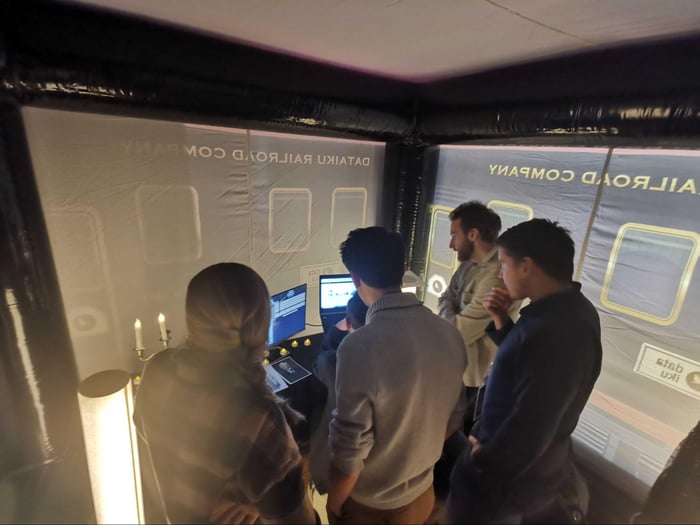 Participants worked together to solve the mystery of the missing jewel
What's Next for the Dataiku Escape Room
Do you think you could successfully escape the Dataiku Escape Room? Keep an eye out for future online and in-person events — our game may just make another appearance!
Value of Creating a Data Science Escape Room
Inspired to create your own data science escape room? In our experience running the different versions of the game, there are a number of benefits to putting together this type of project:
1. It's a fun learning activity: It's no secret that gamification increases engagement with learning materials. By mixing practical technical applications with puzzle-solving and other entertaining elements, learning how to solve data science problems with Dataiku is even more enjoyable.
2. It's an interactive way to discover new features as a user: As an alternative to reading through release notes, a data science escape room allows users to actively discover and engage with new features and product enhancements.
3. Its level of difficulty can be adjusted to the players: Knowing that it would be played by more experienced users, the initial online version of the Dataiku Escape Room was created with a higher difficulty level, more advanced problems to solve, and a longer time to completion of one hour. For the real-life version, its runtime was cut to 20-30 minutes, and problems were simplified to match the profiles of conference attendees, whose familiarity with Dataiku and data science varied.
4. It provides an opportunity to see how different users tackle the same data science challenges in different ways — and how Dataiku allows you to do just that. For example, during the inaugural Dataiku Insiders Days edition, one of the Dataiku Neurons completed the challenge using SQL in parallel, while others opted for using visual recipes.