The health insurance industry dates back to World War II so, as expected, a lot has changed since then. Today, many dated health insurance processes are facing the pressure of a changing market. With newcomers like tech-savvy startups entering the field in addition to the influence of highly digitized services, traditional organizations need to adjust accordingly in order to maintain a competitive edge. Malakoff Humanis is one of the health insurance companies embracing this new digital age.
In this blog, we overview the Dataiku Product Days discussion between Cédric Le Bras (Senior Customer Success Manager at Dataiku), Gauthier Lalande (Lead Manager AI at Malakoff Humanis), and Nikola Lackovic (AI Engineer at Malakoff Humanis) on the importance and impact of AI in the evolution of health services.
Meet Malakoff Humanis
Malakoff Humanis is a nonprofit health insurance company that has been a leader in social protection and health services in France for many years. Over 42,600 companies are covered by Malakoff Humanis which equates to approximately 10 million individuals. As the market has become competitive, Malakoff Humanis has shifted focus away from the more traditional payback model to hone in on preventative health services for customers, falling under social protection initiatives. In turn, the core business principles at Malakoff Humanis are changing and an even greater emphasis is being placed on customer satisfaction requirements. In order to properly address the evolving needs of the organization through the utilization of data analytics, Malakoff Humanis has been forced to combat the accompanying challenges as well.
The Challenges of Leveraging Speech Analytics Data
The end goal for Malakoff Humanis with respect to data and AI goals is to garner a better understanding of their customer base, and the key area that the organization has chosen to focus on in order to gain this improved understanding is customer phone calls. These phone calls are a huge source of data — data that can be turned into actionable insights.
The insights referenced here are taken from speech analytics which is the central component of the data and AI processes that the organization has adopted. They have built out a team that specializes in the speech analytics process from response to visualization of the gathered data. The main obstacle that Malakoff Humanis faced was finding a way to supplement the talent of the team through an AI system that could support the huge influx of phone call data on top of their existing data ecosystem. With 1.5 million plus phone calls a year, the insights that can be obtained from the phone calls are game changing, and the phone counselors' time is a precious resource that they do not want to sacrifice.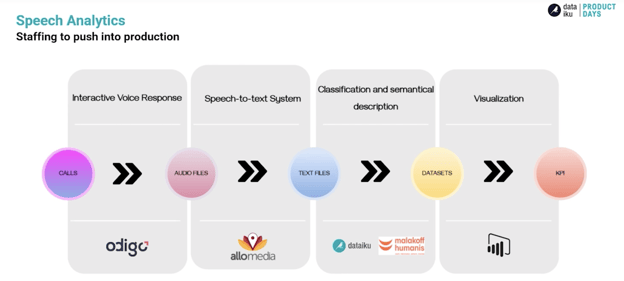 Overcoming Top Challenges Using Dataiku
For the most effective use of data and time, a solution was needed that was able to receive, treat, analyze, and classify outputs of the data into a visualization tool that could be presented through an accessible interface. Enter Dataiku!
In just about a year, with Dataiku, a new AI system was introduced into the data processes at Malakoff Humanis. Dataiku has allowed Malakoff Humanis to intertwine speech analytics, including CRM framework specifications, into their legacy data ecosystem and pre-existing IT infrastructure. Thanks to the new system, open access to data for stakeholders throughout the organization is now possible. Everyone on every team, both customer-facing and internal, have a better understanding of the customers being served on what is essentially a real-time basis now — no time wasted!
45 seconds saved per call for 1.5 million calls per year"
Specific components of Dataiku have enabled Malakoff Humanis to turn this efficient process into an iterative and dynamic one as well — a process that has the ability to evolve with respect to customer needs. As a result, the outcome of the AI application at Malakoff Humanis has been higher customer satisfaction and more time for both data scientists and other team members to dedicate to high-value tasks.
The Future of Speech Analytics at Malakoff Humanis
Malakoff Humanis believes that long-term ROI will be realized by placing speech analytics at the core of their health services. By keeping a pulse on the needs of their customers through these analytics and developing out the exciting possibilities that emerge from the insights, they believe that they will continue to build value over time and stay competitive in today's digitized environment.