The race to enterprise Generative AI is on. However, in order to push beyond the boundaries of traditional chatbot functions and unlock the potential for meaningful, real-world enterprise applications, analytics and AI leaders need to build human-like intelligence into thousands of processes throughout the business, fundamentally changing the cost structure for knowledge-intensive tasks.
Companies that succeed in harnessing Generative AI technology (and more specifically large language models — LLMs) will enjoy a sustainable competitive advantage in their markets. Those that miss this opportunity will fall behind, potentially finding themselves in a position from which they cannot recover.
So, now that we've established that now is the time, how can organizations turn initial evaluations of potential Generative AI use cases into real-world applications and actual business impact (all while mitigating associated risk)? This blog post highlights how Dataiku equips organizations to accelerate real applications with real safety via a new Generative AI Use Case Collection, a responsibility framework, and platform capabilities.
Implement at Scale With the Generative AI Use Case Collection
Developed from the invaluable experience gained from working with over 500 customers, Dataiku has built the first Generative AI Use Cases Collection that applies this revolutionary technology to real business needs. This new approach will allow enterprises to move out of an artisanal approach of building custom Generative AI projects and into the industrial-scale development and deployment of these use cases, moving out of the research lab and into the corporate office.
Explore the full Generative AI Use Case Collection to see real-life use cases across industries and functions, including the following — and more!
Prepare for Coming AI Regulation With an Actionable Framework
With the arrival of a wave of policy proposals seeking to protect both workers and consumers from potential harms of AI such as the U.S. Blueprint for an AI Bill of Rights and the EU AI Act, Dataiku has created the RAFT Framework for Generative AI use cases (Reliable, Accountable, Fair, and Transparent).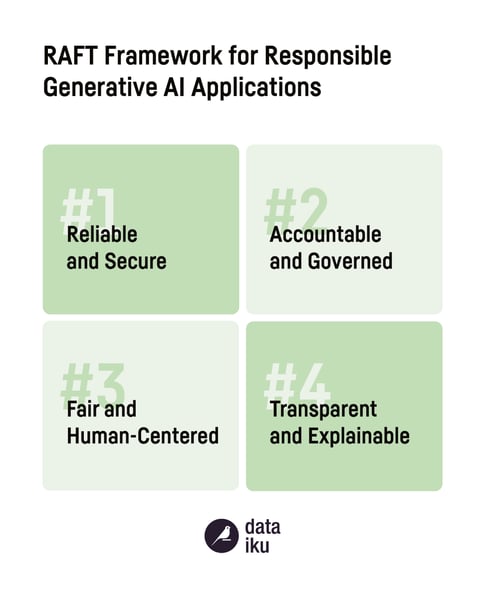 The framework provides actionable steps that enterprises can take now to be ready for future regulation. Taking into account enterprise realities and the input of experts in public policy, digital ethics, and AI bias, the framework balances the need to move quickly on AI while doing so safely and responsibly. To access the complete framework for Responsible AI, download the full "Build Responsible Generative AI Applications: Introducing the RAFT Framework" ebook.
Level-Up Prompt Engineering for the Enterprise
On top of our latest product update (Dataiku 12), Dataiku is adding capabilities that will help Generative AI become enmeshed into a company's data and machine learning workflows. Dataiku's Prompt Studios allows many more people to become highly-proficient prompt engineers, building reusable, enterprise-grade prompts that can be part of production data workflows. Prompt Studios are now available in limited preview.
Introducing AI Prepare
Today, a business person needs to translate their business ideas into the data vocabulary of tables and columns. With Generative AI, we can automate this translation in Dataiku, enabling an even wider population of users to play with data by talking to it.
Dataiku's AI Prepare allows people with the widest possible range of skills to build production-ready data transformations, simply by typing what they want done to their data. This breaks down the last barriers between knowing what needs to be done and making it happen in enterprise databases and cloud environments. AI Prepare is now available in limited preview.
From the Mundane to the Moonshot
When it comes to building real, lasting value with Generative AI (and all AI systems), you need to make it easy for data experts (who understand the model complexity) and domain experts (who know what the business needs) to work together to build Generative AI into your business where it will have the most impact.
Without a real strategy for involving business people and not just technical people, you risk ending up in the same place. Lots of time and investment, but with little understanding of the real business needs to be solved. Organizations that are able to find this collaborative balance between data and domain experts and build their own Generative AI use cases to solve their most pressing and costly business challenges will have the upper hand.