Hot on the heels of the Dataiku version 4.2 announcement, and with plenty of time before the EU General Data Protection Regulation (GDPR) implementation deadline of May 25, 2018, we're proud to add a brand new feature to the Dataiku you know and love: ezGDPR. This robust addition is a one-stop-shop, solving all implementation requirements and challenges in one fell swoop, enabling large organizations to be GDPR compliant with just a few clicks.
Enable one or all three of ezGDPR's settings for complete control over your GDPR compliance plan based on the specifications and needs of your business:
Disguise Human, Keep True Data
Why spend your data team's valuable time and resources anonymizing data when you can anonymize people instead? With ezGDPR's Disguise Human setting, your data stays the same; instead, the people associated with that data will be issued a new name and identity at the click of a button. Within one month, the person will be notified, issued a new identity (including passport), and assigned a new home location at random somewhere on Earth.
Dataiku developed this technology by realizing that complying with a full-fledged personal data access request can cost up to $10,000 per request. The pre-packaged human disguise capabilities in ezGDPR reduces this cost by at least 10x.
This capability is implemented in partnerships with strong trusted providers from Guatemala, France, and Russia with long experience in providing a new identity, full stack. The package also covers social media identity and ensures that personal data stays completely disassociated from the person by generating a new identity based on cutting-edge image recognition and anonymization randomization technology:
Anonymize Data Through Crypto-Strong Random Noise
The second layer of ezGDPR offers anonymization via crypto-strong random noise. Bypassing the hassle of proper data governance, which sometimes takes entire teams of people and that - frankly - if you haven't started preparing for GDPR yet you don't have time for anyway, this setting will disconnect people from their personal data by completely and irreversibly scrambling it with crypto-strong random noise.
While this can make deriving valuable insight from your data difficult, with all of the sprints your data team has saved using ezGDPR instead of lengthy, traditional preparation methods, they will have plenty of time to appreciate and address the extra challenge.
Truly Anonymous Collaboration, Scaled by Blockchain
Perhaps the most impactful ezGDPR setting is that of completely anonymous collaboration, which leverages blockchain to enable people to work together without having to talk to one another at all. Anonymous collaboration addresses the enforcement concerns of GDPR, making reporting and audit response easy.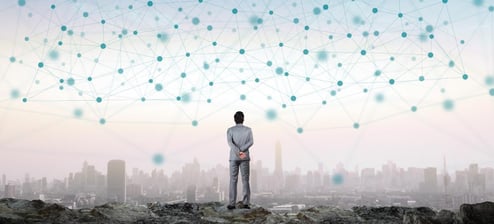 And anonymous collaboration also has implications around the office beyond the world of data science. Did someone water this plant today? Who turned the air conditioning down? No need to speak to one another - with anonymous collaboration, everything is clear - the ultimate form collaboration is now available and is, in fact, completely void of human-to-human communication entirely.
"Anonymous collaboration on anonymous data is the perfect solution to collaboration and to data science, because we don't need to collaborate or use real data ever again," said Anonymous, Data Scientist at Anonymous. "It's the ultimate silver bullet solution to GDPR compliance, and really, to all of the work we do here."
Get Started
If you're looking for a real, fool-proof way to approach GDPR compliance, download the white paper, 5 Essential Pillars for Big Data GDPR Compliance.