Here at Dataiku, we've always believed that everyone - no matter what their level of experience, role or team - should have appropriate access to and be able to create insights and models with data. And by everyone, we do mean everyone. Meet Cyprien, the 12-year-old data enthusiast who became the youngest user to get certified on Dataiku.
An early head start: learning with MOOCs before it was cool
Cyprien may be younger than the emergence of data science as a recognized discipline itself, but he's already had a learning path that many of us could envy (and get inspired by!): when he was only five, he started getting into coding, learning some HTML and CSS through MOOCs on sites such as Open Classrooms, and practicing his skills by making his own mini-website.
At the age of seven or eight, he moved on to Python. This is when Cyprien started to seriously consider data science as a potential career field (wow, can you imagine knowing so early on what you want out of life, fellow millennials??). His only problem? "Using only code is hard stuff," Cyprien complains.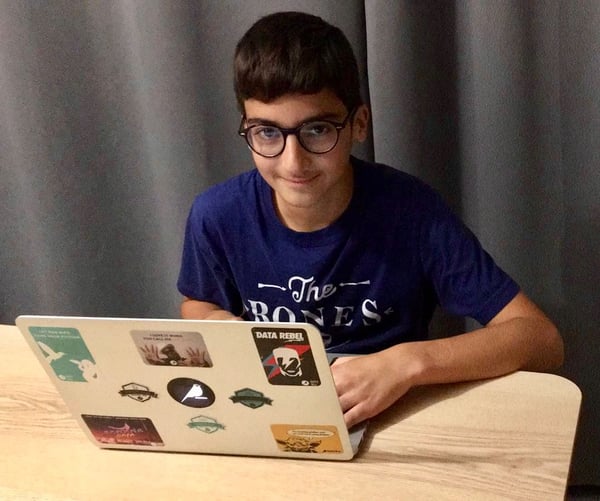 A machine learning expert in the making
Enter Dataiku. About a year ago, Cyprien installed and started to get trained on Dataiku's collaborative data science platform. He instantly took a liking to its easy to use visual interface: unlike Python, he didn't always need to learn complicated code beforehand (even if he really likes coding), he could just use Dataiku's point-and-click data prep features and visual recipes.
This opened a world of opportunities and new use cases for Cyprien, who started getting interested in machine learning and deep learning. About half a year ago, he started working on a passion project involving one of his favorite games at the time, League of Legends. Working on a custom dataset that breaks down all of the different elements and features of the game and the players, he set out to build a machine learning model that predicts which LOL team has the best chance to win. "It doesn't work all that well, to be honest," Cyprien admits, but given his impressive journey so far, we are sure he's just being modest.
Kaggle competitions, hipster video games, and why people are afraid of AI: what's next for this data superstar?
It probably doesn't come as a surprise either that just after a year of learning all the ins and outs of Dataiku, Cyprien successfully passed the certification process on the first try. We all knew that Gen Z are something else, but imagine being a certified Dataiku user a solid half-decade before you can even get a driving license!
Since getting certified, Cyprien has progressively started taking a stab at Kaggle competitions. He's also had some time to reflect on what the next step for him would be: he's decided he wants to be a data engineer specializing in machine learning.
When he's not cleaning datasets, testing out predictive models or digging around Kaggle and Dataiku's documentation, you can find Cyprien at school or "playing hipster First Person Shooter games". He expresses a regret that there is little to no time devoted to coding or data-related tasks in his school curriculum, despite those being present in so many areas of life.
A lot of people are afraid of machine learning and especially of AI, Cyprien says, because they fear it would replace human tasks or overtake us. He doesn't know if AI can truly think or act like a human, but he's watched videos on YouTube of AI simulations "going berserk" and turning against humans. "Maybe if more people learned about data science and AI in school, we'd know better how to deal with it and make sure machines are on our side", he concludes.