Learning how to use a new software or product from scratch is no easy task, especially in the complex and ever-changing world of data and AI, and oftentimes the very first steps are the most challenging.
This is why we created the Dataiku Academy as a free online self-service resource for anyone who wants to get started with Dataiku, regardless of their previous experience, role, or technical expertise. And while its Core Designer learning path is meant to onboard new users, we now offer an even faster way to get started with the product and acquire all the basics in just one hour: the Dataiku Quick Start Programs.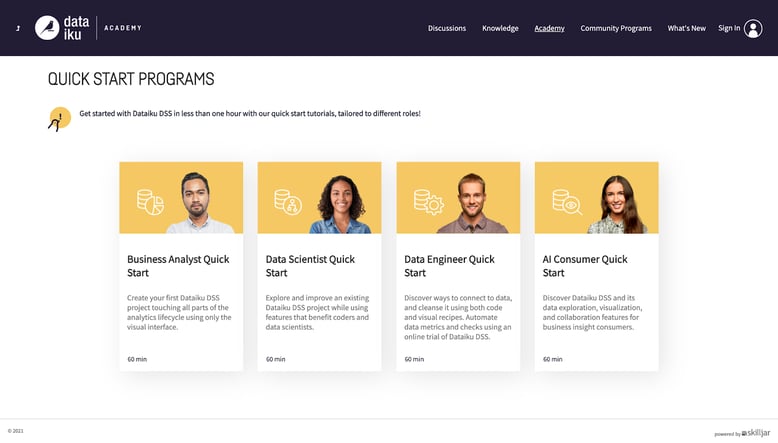 Getting Started With Dataiku Has Never Been Easier
The quick start programs are a collection of hands-on tutorials, each dedicated to a different user profile. They walk through the first steps with Dataiku, from signing up or installing the product to leveraging its key features and performing advanced analytics and machine learning tasks on a real-life sample project.
We have released four quick starts, each dedicated to a different user profile.
1. AI Consumer
The AI Consumer quick start is meant for business users whose interactions with Dataiku would primarily consist of consuming insights and who want to learn how to use dashboards, apps, and other visualization and collaboration features.
2. Business Analyst
The Business Analyst quick start will walk users through advanced data analytics and AutoML operations with Dataiku's visual point-and-click interface, from connecting to and preparing data to building and scoring data on a machine learning model.
3. Data Scientist
The Data Scientist quick start focuses on Dataiku's features for coders. In this quick start, users will learn how to leverage Jupyter notebooks and code recipes, build and monitor custom machine learning models, and more.
4. Data Engineer
The Data Engineer quick start focuses on data connections, data cleansing with both code and visual recipes, and using automation features such as metrics and checks to monitor data quality.
Not a Novice Anymore? Get Started With New Features From Dataiku 9
While the quick start programs are meant to introduce first-time users to Dataiku, the Academy has also released a dedicated program for more experienced users who want to dive deeper into advanced usage of the product's latest features: the Crash Course in Dataiku 9.
The crash course consists of short videos, hands-on tutorials, and how-tos for each of the main new capabilities introduced in Dataiku 9, from advanced data preparation features such as a smart pattern builder to features for better model transparency, a unified Project Deployer, and more.
Whether you're a Dataiku beginner or expert, the Academy is always releasing new courses and programs to meet the needs of our wide and diverse spectrum of users.