2020 was a year of racial reckoning around the world, particularly in the wake of the murder of George Floyd. One year ago today, I made a statement on behalf of Dataiku committing ourselves to not only talk about change but actually implement tangible changes to fight racism and inequity — and share our progress along the way.
The topic has consistently made it to the top of the news cycles again this year, especially as a surge of hate crimes and violence targeting the Asian community was observed in many regions across the globe. I also made sure that it consistently made it to the top of Dataiku's list of priorities during our executive meetings and in our major company-wide projects. With June being Pride Month (where we recognize the vast contributions of the LGBTQ+ community), we thought it was a fitting time to reaffirm our commitment to work for change in our communities and share some of the initial results of our work.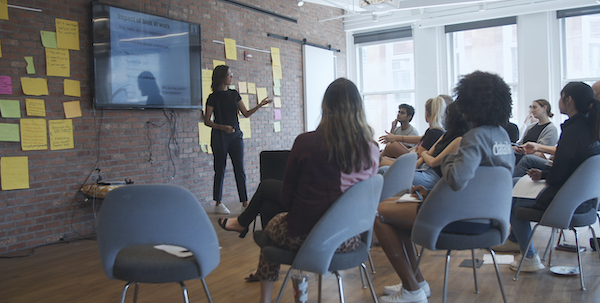 Changing Internal Processes
Looking internally at our own processes and challenging them to go further is critical to fostering long-term change. Here are some initial results from our process-driven goals:
We inaugurated our first Diversity, Equity, and Inclusion (DEI) Advisory Council which consists of 10 Dataikers from around the globe who partner with leaders in the organization to suggest ways to make Dataiku more inclusive and equitable.
We established four Employee Resource Groups (Queer Dataikers to support the LGBTQ+ community; EmpoWer Women in Leadership; Convergence, a multicultural group; and DatAble, to support people living with disabilities) in which Dataikers who share common interests and/or concerns can meet and support one another.
We improved the gender balance representation thanks to active recruitment, training, and support. We increased the representation of women in our workforce by 6.3%. Women now represent 36% of our workforce and we have set a goal to reach 40% by the end of 2024.
We launched a self-ID survey in the United States. Our goal is to capture metrics around demographics such as race/ethnicity, disability, sexual orientation, etc., in order to better understand where inequities and systemic barriers may exist in our organization.
Supporting — Both Monetary and Mentorship
Our impact should not be limited to our internal organization. We also believe putting our money and time behind meaningful causes and initiatives will help shape a more equitable world.
We donated $114,000 to organizations dedicated to fighting racial and social justice issues in addition to donations made to NGOs with broader goals as part of our AI for good program Ikig.AI.
We targeted outreach efforts to Historically Black colleges such as Morgan State University to help students get a better understanding about careers in data science.
We supported female entrepreneurs in the field of AI by partnering with Women in AI on their Accelerate program in the U.S. and Europe, providing them with coaching from our senior leadership team.
We

launched Dataiku's first scholarship for Women in Data Sciences and Business Analytics

in partnership with ESSEC Business School.
Growing the Positive Use of AI
Despite the exponential increase in the amount of machine learning models in production, only a few companies have dedicated the time and effort to ensure these models are deployed — and maintained — responsibly. At Dataiku, we are working on Responsible AI in conjunction with governance and MLOps in order to ensure that it actually gets embedded into business processes and doesn't become a siloed effort.
For example, Dataiku's model fairness report (released in late 2020) was designed to help accomplish this task. The goal is to show users — in a transparent way — several fairness metrics and the differences between them. From there, users can choose the one that best evaluates the fairness of the situation at hand.
But it's not enough just to help Dataiku customers and users in this regard. In addition to adding the functionality to our own tool, we contributed the plugin to the public domain because we think that every vendor in our space should add similar functionalities within their AutoML stack.
Looking Ahead
Although I'm glad we have been able to implement several tangible changes in such a short time, I don't believe we have reached the end of our DEI journey and I will personally make sure that this always remains a top priority for our company. We'll keep working hard to make Dataiku the most equitable and inclusive place it can be and, from now on, we'll regularly share updates on this blog, detailing our bespoke DEI initiatives and plans for the future. Stay tuned!