VP of Thomson Reuters Labs talks data with us: innovation and how to empower data science teams (hint: it's all about collaboration!)
In today's word, using data effectively is critical to the success of almost any company, and Thomson Reuters Labs contributes to the growth of startups and other organizations by working with them to solve big problems with data science.
We were lucky enough recently to sit down with Mona Vernon, Vice President of Thomson Reuters Labs, to talk about what the Labs do, their view on the importance of data science in today's landscape, and how their data scientists work together to accomplish amazing things (like ending modern slavery).
Here are our top three takeaways from speaking with Vernon, but don't just take it from us! You can watch the full video here.
Every Company Is In The Business Of Data.
Companies are increasingly realizing the power of data, and Thomson Reuters helps them realize that power and actually start making decisions from the data they're collecting. But it's not just startups or high-tech companies that they serve - everyone, from academics to government to non-profits to older, more traditional industries, has something to learn from their data.
The most obvious way that data can help companies improve is by enhancing business operations, but it doesn't stop there. It also can have a huge impact on the direction of existing products, making them better for users or more tailored to their needs. Or in some cases, organizations are using data to build the products themselves from the ground up.
It's About Finding Answers From Data, Not Just Collecting It.
There are constantly new data sets emerging or being collected that companies can use as the basis for decisions and new products. What's important, and what Thomson Reuters Labs are helping companies discover, are the new business models, innovative solutions or even new products coming out of those previously untapped data sets.
This comes from not just collecting and analyzing data one time, but modeling and leveraging machine learning to continuously use data to inform decisions of the future.
Data Scientists Come In All Different Flavors, And They're Best When They Work Together.
For Thomson Reuters Labs (and for any data science team), collaboration is key. There isn't just one type of data scientist - they have different strengths, specialities, and ways of working. But that's a good thing!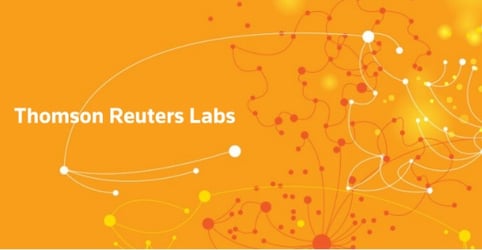 When provided with the tools to collaborate, all of these different strengths play off each other. Thomson Reuters Labs uses their own method called "lean data process," which can be replicated in other data science organizations.
Whatever the method, assembling a team of different types of data scientists who can work together is critical to success. It's also important to enable collaboration both from a communication perspective as well as from a technical perspective, encouraging data scientists to work on joint projects with customers and with people across the organization.
Learn more about Thomson Reuters Labs and the cool, innovative things they're helping their customers do with data.