I always enjoy the entertainment of "How It Started vs. How It's Going" memes. The juxtaposition of two states by removing the passage of time lends to a dramatic effect. Last week, I found the opportunity to formulate such a contrast from an infographic around innovation in healthcare.
I had the pleasure to attend the HIMSS annual global conference in Chicago, along with 40,000 of my peers in the health and life sciences ecosystem. One of the exhibiting sponsors hired an artist who — throughout the week — built a mural on the major steps (leaps) in patient care aligned with data evolutions (aptly set to a DNA double helix) based on input from the attendees. So without further ado I present my own attempt at:
How It Started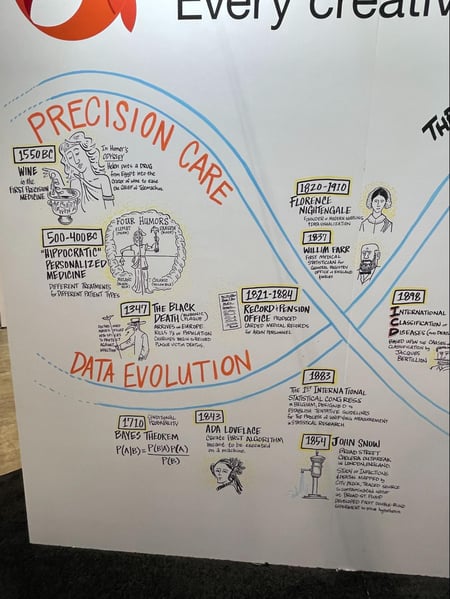 How It's Going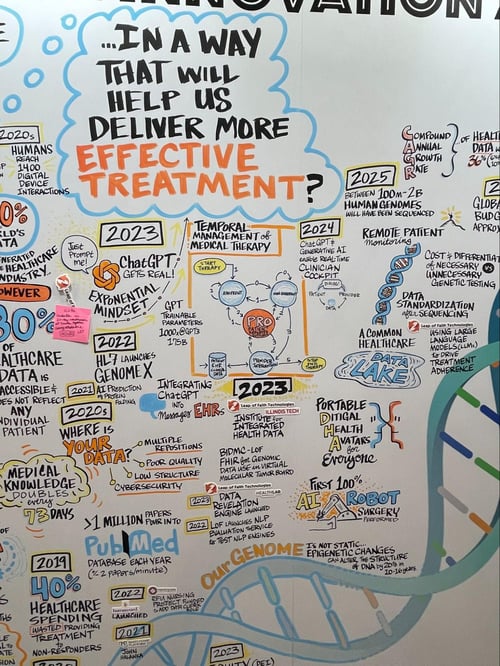 Wow. That is quite a leap (fitting that was part of the name of the exhibitor where I took these images) from wine as medicine to the current and near state of data and health innovation (with AI embedded). You'll note several references to large language models/generative AI. In fact, a running joke at the conference was that if you turned the presentations and conversations into a game where you had to drink every time someone said "ChatGPT," we would have been a big bunch of non-professionals.
I heard more than once that "ChatGPT is when AI grew up." In this field, where there is a general AI credibility crisis sown by the seeds of the scientific research reproducibility crisis, I was frankly surprised at the rate and level of adoption to the latest hype. But when you look at the speed of evolution from GPT-3.5 to GPT-4 (Medical Knowledge Self-Assessment Program results jumped from 53% to 75% percentile), the vision cannot be denied.
In fact, Electronic Health Records (EHR) giant EPIC used HIMSS as a platform to announce their GPT integrations, though I most enjoyed the pervasive vein of how AI adoption (and innovation) will move out of these giant corporations and the hands of a select few as it becomes mainstream based on inflection points like generative AI.
This is something Dataiku has long held belief in with our premise of Everyday AI. Our platform strives to not only give domain experts a seat at the table for building data science projects, but also operates on the notion of enabling organizations of all maturity levels to take control of their own data and insights.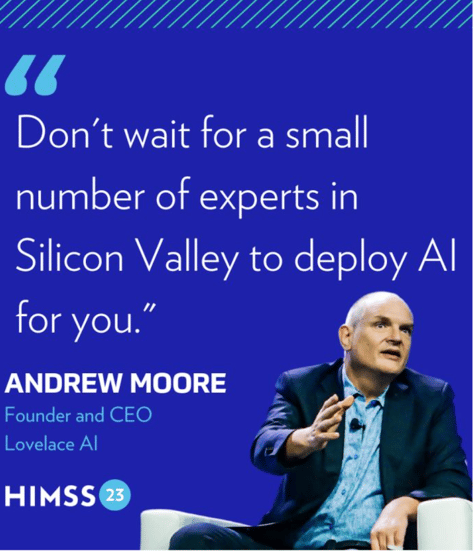 Tempering Vision With Reality
Though just like the juxtaposition I started with, there is a stark contrast between vision and reality as AI Governance frameworks in clinical applications are still nascent. Another anecdote from the conference was in a keynote around how to deliver on the AI opportunity, the audience was asked to raise their hands if they are using AI in their systems — about a quarter of the room raised their hands (impressive!).
When followed with the question "Who feels you have a mature best practices framework for it?" — every single hand went down.
There is still a very real need to ensure AI in health and life sciences:
Utilizes fit-for-purpose quality data or accounts for poor quality data
Does not amplify bias and inequities
Can be monitored with human-in-the-loop change control plans to ensure intended performance
Delivers explainability/transparency/credibility to ensure utility by business experts (e.g., clinicians)
Provides a mechanism for consumer (e.g., patients) affected by AI to have observability and provide feedback on AI-driven decisions or outcomes
Can be implemented into point-of-care clinical decision making systems safely and securely
To ensure we don't stifle innovation while balancing regulation, we need to accelerate the typical time lag between applications for a problem and best practice for the solutions. For organizations just getting started and looking to prove the value of AI, additional considerations to ensure success should include:
Stakeholder alignment and appropriate representation in both building and delivering AI
Hands-on training on utility of models for adopting data-driven decision making
Specific requirements for validation and assessment metrics
Methodological implementation plan aligned to industry standards
A single, unified platform (like Dataiku) for everything from data prep to model deployment that enables Responsible AI practices, ensures efficiency and collaboration, and provides full governance and oversight
More to HIMSS Than Just ChatGPT
Of course there was more to HIMSS than just the generative AI shock waves, and Dataiku was there for it! I had the pleasure to showcase some of our joint solutions including our Snowpark-optimized pharmacovigilance solution for detecting unusual adverse drug reaction signals with our technology partner Snowflake, as well as present and discuss our Social Determinants of Health solution with our Deloitte Alliance partners and collaborators.
Our chief AI strategist Jepson (Ben) Taylor participated, along with world renowned cardiothoracic surgeon Dr. Zain Khalpey and the president and CEO of Nihon Khoden, Hirokazu Ogino, in a panel discussion on the "Practical Use of AI in Healthcare."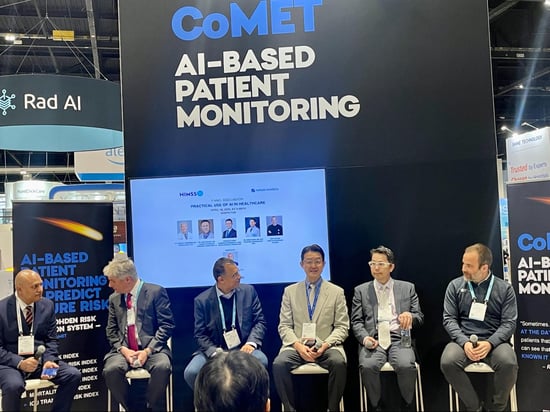 This was an inspiring session to hear how leading medical experts like Dr. Khalpey (who leads Khalpey AI Lab and is a practicing surgeon at Honor Health), Dr. Randall Moorman (cardiologist at UVA Health), and Dr. Eishi Asano (pediatric neurologist at Wayne State University) are adopting and delivering on the promise of AI at the patient bedside. When stories like that are shared, it's hard not to believe in the vision AND reality of AI in patient care.