Since the very beginning, part of the Dataiku mission has been to bring together the data community both within our product and out in the world. Today, we're proud to announce a $28M Series B funding round led by Battery Ventures along with FirstMark Capital, Alven Capital, and Serena Capital, that will help us broaden our reach and continue to expand the Dataiku community, reaching more data lovers in new and exciting ways.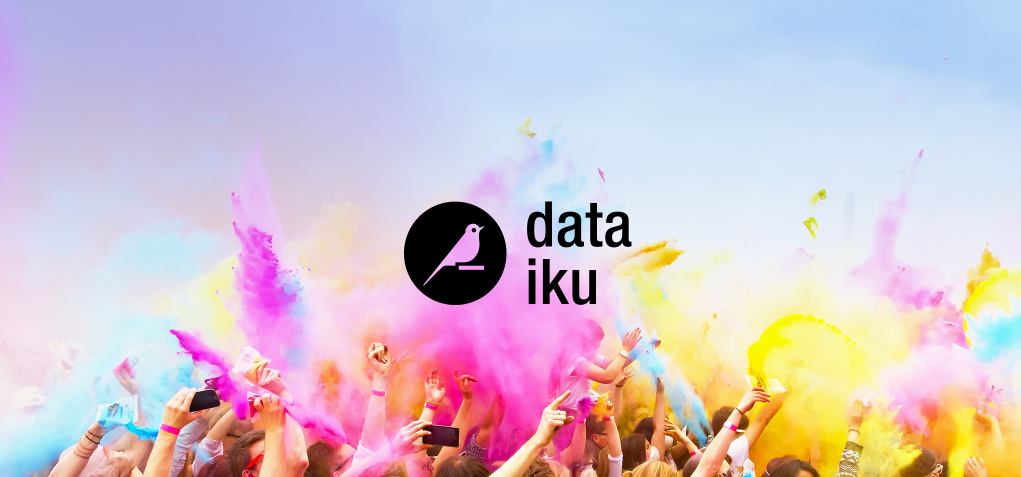 In the past year, we've been working on all kinds of initiatives to foster and forward a data-driven mindset across geographies, professions, industries, experience levels, profiles, and more. Here's just a taste of what we've been up to and what we'll be able to dial up in the next year given this announcement:
Dataiku Customers and Users
Of course, we will continue first and foremost to support our community of loyal Dataiku customers and users who are reinventing analytics at scale for use cases ranging from anomaly monitoring to marketing to predictive maintenance, and everything in between. We're very excited about the unique and particular challenges our new customers brought to us in 2017 (and will continue to bring us in the future). We've had the opportunity to work with major players in pharmaceuticals, manufacturing, transportation, and more, helping sometimes hundreds of users at those companies work together to solve their biggest data challenges together.
Partnerships
We continue to expand our network of partners and are always in search of great companies that share our values. Our partners are essential in not only helping us best serve our customers, but they also play a critical role in expanding our community through webinars and meetups, providing expert insight into big data hot topics.

Meetups
Hosting meetups and events is an integral part of our mission to foster a supportive community around using machine learning and predictive analytics to create better products, services, and most importantly, a better world. Our meetups aim not only to facilitate networking among like-minded data professionals, but to educate and provide new insights on issues faced by today's data teams so that we can all learn from each other.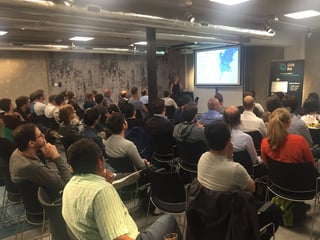 Hosting meetups and events is an integral part of our mission to foster a supportive community around data science and ML
With our latest round of funding, we plan to bring regular meetup series and larger events (like our DataConnect meetups in New York City) to even more locations in new and existing markets. We're very excited about our upcoming conference EGG2017 in New York City, a day-long exploration of what it takes to transform organizations around analytics, which is yet another taste of the kinds of events we'll roll out for the data community in 2018!
Follow us on your favorite social medium (Twitter, Facebook, or LinkedIn) or check out our events page to stay up-to-data as our meetup program expands to a city near you.
Academics
We want to help people everywhere grow their data analysis and predictive modeling skills, and that starts with education. We started the official Dataiku Academic Program in 2017 to take our support to the next level. From business students to advanced research and everything in between, we're providing free academic licenses so that the world's most inquisitive and curious minds can start building the cutting-edge data products of tomorrow.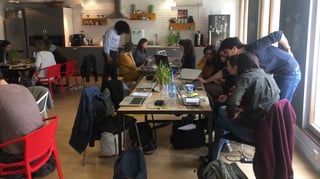 Providing guidance to students on using machine learning and predictive analytics is an important part of our strategy to promote the building of the cutting-edge data products of tomorrow
Non-Profits
We truly believe that data will change the world in fundamental ways, and non-profit organizations are at the core of this idea. So in the coming year, we will expand our efforts to proactively support them in leveraging big data technologies and methodologies - learn more.
Startups
Up-and-coming startups building innovative, data-at-the-core products are also an integral part of our growing community, and we'll continue to support them by featuring startups in our meetups and events to help their cutting-edge data products gain exposure within the community. We also still offer startup pricing tiers for those that want to make Dataiku a part of their business.
Newsletters and Publications
We've just launched our data science blog, which we'll use to share ideas and dissect specific machine learning questions and use cases we're working on to keep spreading knowledge with the community. We also will continue to cover the latest trends and topics for data team leaders and analysts on our Dataiku blog. And don't forget about our awesome weekly newsletter about everything cool and interesting in the data world, Banana Data News!


Our data scientists have launched their own blog, data from the trenches, to take you down into the nitty gritty of the data science world
The Dataiku Team
When it comes to taking on more challenges and projects with our growing list of customers across the globe, we'll be ready! Because we're hiring even more ultra-smart data scientists and have open positions for lots of other roles to continue to provide top-notch service. We'll also be expanding our team to more locations to reach more of our user base. Expect to see more of our team in the Benelux region, Germany, and Singapore very soon!

See You Around!
We're excited for what the rest of 2017 and 2018 hold for the data world and the community, and we can't wait to connect with you soon either in person at one of our events or through any of these programs.