Retailers are highly dependent on end customers through stores and other distribution points, so understanding how to best structure their distribution network is critical.
While the COVID-19 crisis has boosted e-commerce, in-store sales will still account for up to 75% to 85% of retail sales by 2025. Given the importance of a retail network both in terms of brand recognition and business value, optimizing it is vital for relevant organizations.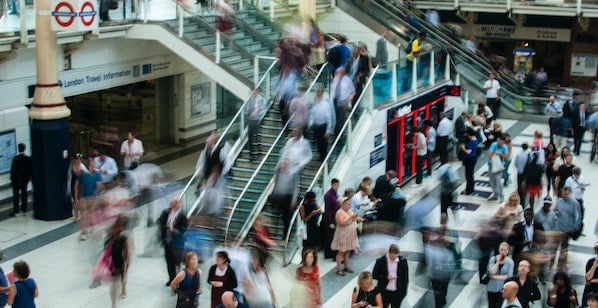 It pairs with a huge opportunity. Stores can increase sales through other channels thanks to the e-commerce halo that can account for up to 20% to 40% of its total economic value. A halo effect is defined as the impact of a store on the performances of other sales channels such as e-commerce.
The current situation is that companies rely on their network development teams who are responsible for investigating new store opportunities based on the metrics of each catchment area (the area from which a retailer or shopping center is likely to draw its customers). This is how they project the potential revenues for a given location.
To go further and reach this attractive 20% sales increase target, retailers need to enrich their current network development operations by leveraging geospatial analysis. The latter aims to collect, process, and analyze data from all kinds of technologies such as GPS, location sensors, satellites, etc.
It uses any data that has a geographic component attached to it, including geographic coordinates and specific identifiers such as street address and zip code. It can be enriched with complementary/alternative data sources such as competition locations, footfall, national institutes of statistics, etc.
Leveraging geospatial analysis is a huge opportunity for retailers. More specifically, it can be used to conduct a spatial exploration of a distribution network and answer strategic questions on coverage and competitive positioning.
Achieving these results demands the optimization of both global and local network strategies through a broad scope of use cases:
Global:
Optimize your distribution network: Open stores in high potential areas, close stores in low potential areas, relocate stores to better manage the overlaps between Point of Sale (POS).
Optimize the supply chain: Find the best places for new distribution centers.
Tailor competitive strategy based on overlap with competitors.
Local:
Adapt the POS strategy depending on the catchment area.
Optimize marketing campaigns based on distribution networks and landmarks, including geo-targeted ads.
Those use cases are great opportunities for companies to better manage distribution networks and increase business value. Reaching impactful results is only possible thanks to the right data, tools, and skills, and can be accelerated thanks to packaged solutions.
How Can Dataiku's Industry Solutions Help You Reach Full Potential?
Let's first explain what we are talking about. Our solutions are Dataiku add-ons accelerating the way to achieve advanced and basic industry specific use cases. They are an operational shortcut to achieve real-world use cases designed with the purpose of business value generation. Taking advantage of the Dataiku platform core features, they are built to be fully customizable and entirely editable.
They come with:
A user-friendly interface that enables fine tuning to match with specific business requirements
Ready-to-use dashboards that can be customized
Documentation and training materials
Dataiku industry specialists develop solutions for every vertical, among which:
As a result, business professionals experience a boost in AI productivity and can rationalize their resources.
How Does It Work in Practice?
The distribution spatial footprint solution aims at providing a ready-to-use interface to measure, assess, and model the specificities of a network. It uses isochrones as an indicator of the time to reach a certain area on a map. Isochrones are lines on a map connecting places from which it takes the same time to travel to a certain point.
Learn more about Dataiku's Distribution Spatial Footprint solution in the video above.
With this solution, organizations can:
✓ Enrich the analysis of your distribution network by computing isochrone areas, based on transportation duration and means, for each of the POS in your network.
✓ Input customer data to enhance the analysis of your network even further and optimize customer coverage.
✓ Analyze the spatial implantation of your distribution network to optimize your distribution network and supply chain.
✓ Visualize customer data across your distribution network with pre-built dashboards and a visually rich interactive webapp.
✓ Rerun the entire data pipeline on new data and isochrone areas using a simple application.
To tailor the project to your own needs or extend the scope, everything is built to be fully customizable.
From a user perspective, the solution is made of five easy-to-use components:
1. Dataiku Applications: Pre-built Dataiku Applications to easily upload data and adjust the project to your needs. Users can easily create multiple versions of the same project, tailored to customer business requirements.
Easily connect your data sources thanks to the Dataiku Application
2. Visual Pipeline: A simplified understanding of the project structure and data transformation steps, which offers easy navigation and revising of the project to your needs.
Explore the visual flow and tailor to your needs
3. Data and API Connectivity: Plug in your data and leverage external open source APIs to calculate isochrones.

Leverage isochrone through your preferred provider
4. Ready-Made No-Code Features: To accelerate insights delivery and leverage the Dataiku geocoding capabilities to turn addresses into geo points.
Set up your isochrone directly through the Dataiku app
5. WebApps and Dashboards: Accelerate insights building and consumption via advanced dashboarding capabilities to run analyses, share them across stakeholders, and make conclusions.
Visualize insights through pre-built dashboards
Start your spatial analytics journey in minutes, with minimum prerequisites:
Data needed: owned & franchises POS: store id, addresses, ideally longitude / latitude
Dataiku version needed: 9.0