TPS, which stands for Toyota Production System and was invented mainly by the engineer Taiichi Ôno, is still very integrated in how cars are manufactured today. This production method influenced many other manufacturing and services domains. Very new and surprising at the time (between 1948-1975), the concepts of TPS aligned more than ever with the current trends of frugality and sustainability. In essence, here are three of the main precepts:
Avoid waste
Maintain optimal production quality all along the production line
Produce what is necessary, when necessary (also known as "Just-in-Time")
All three guidelines can be summarized with one word: quality. The higher the quality, the lower the amount of unnecessary costs, waste, and lost time is. This simple but stringent production method should still be followed today. Costs related to production inefficiencies, increased downtime, and rejected products have a substantial impact on profitability across industries.
Manufacturing companies need their production lines to comply with quality control if they wish to maximize production efficiency and reduce costs. The American Society for Quality estimates that, for many organizations, poor production quality control results in as much as a loss of 15-20% in annual sales revenue, or billions of dollars annually for larger manufacturers.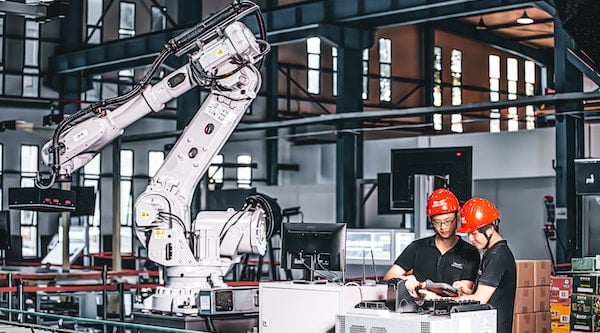 Get Your Quality Control on Track
AI comes in as an ally to enhance quality control across the production line. The concept of "Industry 4.0" now allows organizations to gather more data from factories and supply chains. With faster, more flexible data wrangling and processing, analytics and AI become the must-have practice to improve quality control. In fact, leveraging product defect detection and quality testing powered by AI can increase manufacturing productivity by up to 50%, says McKinsey.
But embarking on such a journey demands finding the right starting points, and that's why Dataiku is excited to introduce its latest Business Solution: Production Quality Control. It is meant for factory managers, production engineers, and quality engineers to help them benefit from near real-time insights to improve the surveillance of key manufacturing processes. It is the first step toward embedding AI in crucial factory processes.
How Can Dataiku's Business Solutions Help You Reach Full Potential?
Business Solutions are Dataiku add-ons accelerating the way to achieve advanced or foundational industry-specific use cases within your organization. They are an operational shortcut to achieve real-world business value. Taking advantage of Dataiku's core features, they are built to be fully customizable and entirely editable.
They come with:
A user-friendly interface that enables fine tuning to match specific business requirements
Ready-to-use dashboards that can be customized
Documentation and training materials
Dataiku industry specialists develop solutions for every vertical, among which:
As a result, business professionals experience a boost in AI productivity and can rationalize their resources.
How Does It Work in Practice?
The Production Quality Control solution provides a template project to improve the quality of production and adjust manufacturing processes in near real-time. With this solution, factory managers, production engineers, quality engineers, and maintenance teams will be able to:
Improve production efficiency by training and deploying up-to-date AI models that leverage all relevant data across their manufacturing processes.
Explain the root causes of their production defects using explainable AI models and what-if analyses to simulate different operating conditions.
Collaborate as a team to provide real-time insights to everyone in the factory through Dataiku's fully customizable dashboards.
Leverage streaming capabilities to detect changes in their production with sufficient lead time that enable operators to act early in the process.
From a user perspective, the solution is made of the following easy-to-use components:
1. A Structured and Comprehensive Flow
Adapt the flow to their manufacturing processes and ingest all relevant enterprise, operational, and external data to improve their production quality.
2. Production Quality Dashboard
Use Dataiku's AI-powered Production Quality Dashboard to follow their production in near real-time and track the factors having the most impact on their production.
3. Root Cause Explanations of Their Production Defects
Run "what-if" analyses (i.e., qualitative sensibility analysis) to better understand the most important parameters that impact their production and analyze the root cause of their anomalies.
4. Ability to Define Scenarios
Easily track their production issues in near real-time based on fully customizable triggers.
5. ...and Send Alerts
The alerts will inform their operators to act early in the production. They can be connected to their favorite communication platforms, such as Microsoft Teams and Slack.
6. Near-Real Time Insights
Move from reactive to real time thanks to Dataiku's streaming capabilities to make decisions and raise alerts as soon as possible.
Start improving your production efficiency right now with these simple requirements:
Datasets: Sensor/IoT data and product quality data
Dataiku version:

9

or later