Besides preparing our anticipated AI trends for the upcoming year, annually in Q4 we also take time to reflect on the year we had internally at Dataiku — what we accomplished and what we aim to tackle in the new year. At just about this time last year — December 17 to be exact — we were celebrating our 500 employee milestone and looking back on how the company adjusted to going fully remote amidst the onset of the global health crisis.
Now, this December, we've officially surpassed 900 employees and are excited to continue our scaling journey into 2022 and beyond. While the scaling process is not free of challenges, Dataiku still has a 4.9/5 rating and 100% approval of our CEO on Glassdoor and has just been recognized as one of the 25 "Highest-Rated Private Cloud Computing Companies to Work For" list for 2021, released by Battery Ventures. Dataiku's founders are very intentional about ensuring Dataikers feel like they belong and that they are not only joining an existing culture but influencing it — To quote one employee, "It's a family without the cliquishness. The leadership is very accessible, and they do everything they can so that people enjoy working here and feel free to be themselves."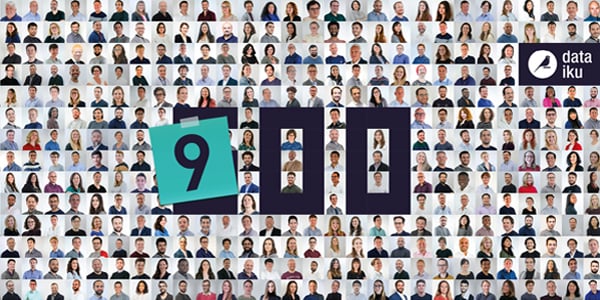 Our structured onboarding process — which is always evolving but certainly not new — makes a true difference in helping new hires understand our culture. However, it's only one facet of our culture so, in this blog, we wanted to share five key highlights and initiatives from 2021 that enabled us to maintain our culture while onboarding over 400 Dataikers.
Scaling Culture With a Dedicated Team
Dataiku realized that integrating new employees into our company culture would require responsibility from a dedicated team. In the beginning of the year, Dataiku leadership appointed a Head of Culture, Laurie du Boullay, to help ensure that the integrity of the company culture (which is a melting pot of all its international influences) is maintained throughout this scaling process. The responsibilities of Laurie's team include our corporate social responsibility and AI for good programs, learning experiences, and Diversity, Equity and Inclusion (DEI). Most of all, their role is about enabling all Dataikers to become true ambassadors and guardians of our culture.
We genuinely care about Dataikers and their experience at work. Culture stands out at every stage of the employee experience. We want every employee to be empowered to guide and grow our culture in new, valuable directions. At Dataiku, you will be asked for your input on many topics. On several occasions, a Dataiker was able to make a difference in some of our most foundational processes upon arrival."

-Laurie du Boullay, Head of Culture
Adapting Our Culture to New Ways of Working
The global health crisis ushered in a new wave of flexibility when it comes to ways of working. While we consider remote collaboration the norm (and had employees working remotely much before March 2020), we firmly believe that each employee needs to determine the right balance between work and their personal lives. Notably, we hired 38% of people in fully remote positions in 2021!
In order to operationalize that flexibility, we established a policy that is unique to each team and clarifies the status of each Dataiker. It accommodates different working styles because we recognize that everyone has different needs around interaction. To keep us all connected and engaged, we offer four different buckets based on employees' working styles:
Office - In the office four or more days a week
Flex - In the office two to three days a week
Super Flex - In the office two to three days a month
Remote - Only attends special events in the office
We also introduced a new "Work From Anywhere" policy to allow each Dataiker, regardless of their chosen type of work, to work from anywhere they choose up to four weeks per year.
Empowering Culture Ambassadors With Listening and Coaching
At Dataiku, we firmly believe that our managers (over 200 of them!) are key culture ambassadors for the company, especially as we scale. As many of them are new to the role or starting at Dataiku with a manager role, we want to equip them with the necessary tools and support they need to thrive. We offer:
Extensive new manager onboarding
A "Leadership for Everyone" program with dedicated sessions on leading themselves, leading cross-functionally, and influencing upwards
A new manager survival guide and toolbox
A coaching program — All of our managers are eligible to receive individual coaching
Upward feedback in performance reviews to help them know what can be improved to best support their direct reports
We even offered a Humor and Leadership session led by Dr. Vanessa Marcié (Ted speaker and expert in humor and leadership) who dug into how humor science can be applied to leadership. She introduced the different types of humor and shared tips for managers to identify theirs, why it's important for leaders, and how to use it effectively!
Cultivating Our Cultural Differences
Last year, we created our first-ever DEI Advisory Council to enable employees to get more actively involved in DEI-related discussions and initiatives (such as organizing events for Black History Month and working to improve parental benefits). As we are a company comprised of individuals from different countries, cultures, ethnicities, socio-economic and academic backgrounds, genders, sexual orientations, and seniority, the global council engages regularly with the leadership team, making suggestions to help shape a more inclusive culture and build out Dataiku's annual diversity report.
In addition to the support offered to managers that we outlined in the previous section, we're also rolling out manager training that is intended to mitigate unconscious bias during the hiring process and refining our talent acquisition practices for more inclusion.
Further, we launched a few Employee Resource Groups (ERGs) such as:
Queer Dataikers, which celebrates and supports all LGBTQIA+ employees
Convergence, which promotes diverse backgrounds and cultures
DatAble, which brings awareness of physical, mental, and cognitive health conditions and disabilities
EmpoWer, which increases the representation of women at Dataiku
All of them organized events during specific times of the year related to the group they celebrate and support.
Of course, we would be remiss if we didn't mention Ikig.AI, Dataiku's "AI for Good" initiative, which believes that nonprofit organizations should be able to leverage the full potential of AI with the right software and skills. Giving back is a key component of the company's culture. In fact, Dataiku invests over 1% of its total annual revenue on Ikig.AI and we doubled the amount of time given by Dataikers to causes they care about in 2021. Check out these recent updates on how Cascade Bicycle Club and One Acre Fund used Dataiku in 2021 to help foster collaboration and data-driven initiatives.
Shaping Our Culture With Shared Experiences
While we were unable to have our annual kickoff (which gathers the entire company in one place), in the second half of 2021, regional meeting and team days were organized to allow people to meet in person again. Celebrations included a Thanksgiving lunch in New York, a Diwali party in Paris, an EMEA sales engineering team days in Porto, and a visit to Paris from our Korean team.
All the while, we kept meeting all together virtually to align on business objectives and our Everyday AI mission via company updates that reflect our culture. We had an inspiring speech from one of Simon Sinek's consultants, Dataikers across the globe shared fun cooking recipes, engaged in quarterly business outlooks with our CRO, and recognized Extraordinary Dataikers — those employees recognized by other Dataikers as amazing colleagues who embody Dataiku's culture.
While the task of establishing and maintaining a strong company culture is not an easy one (nor is the work ever done, especially when we are growing so fast), the work is worth it. We are extremely intentional about it — from our C-suite executives down — and are committed to making sure our people-first culture remains alive as we continue to grow. The new year ahead should be as exciting as this one was for Dataiku, so be sure to stay tuned to see how much we grow!