We are excited to share that Dataiku has been named to the Forbes Cloud 100 for the third time, this year jumping to #77. The 2022 Forbes Cloud 100 is the definitive ranking of the top 100 private cloud companies in the world, published by Forbes in partnership with Bessemer Venture Partners and Salesforce Ventures. We are honored to be recognized amongst the best and brightest private cloud computing companies, including our ecosystem partners like Collibra, Fivetran, Gitlab, and others.
As a cloud-native platform, we have integrated compute execution into native hosted services from all major public cloud providers and managed services to simplify architectures. This year we released our no-code cloud stack accelerator on AWS, Microsoft Azure, and GCP to help companies get up and running quickly in the cloud and derive insights from data in hours, not months.
In addition, we were recently named Snowflake's AI/ML partner of the year (for the second time) along with competency awards in financial services, healthcare life sciences, retail, and CPG. We have narrowed down the top three reasons why we are on the 2022 Forbes Cloud 100 and how we unlock the value of AI and machine learning for our more than 500 customers.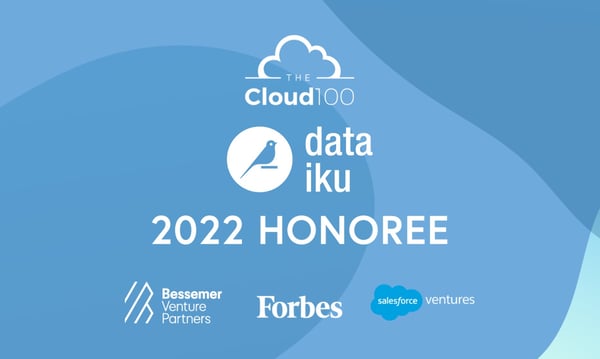 Fueling Growth With Data and AI
AI and machine learning (ML) promise to ignite growth, but many businesses have struggled to achieve the potential ROI from their AI and ML investments. Much of their data and insights remain locked away in cloud silos. Dataiku is changing the game with an innovative approach to cloud-native AI and ML.
The key to transforming your business is in your enterprise data. Dataiku and its vast ecosystem of cloud computing partners help you find "the next big thing" hidden in your enterprise data that will propel your company's growth. Dataiku's platform for Everyday AI has a vast array of connections to your corporate data in the cloud or on-premise.
No matter how big or complex your data, Dataiku helps your analysts and data scientists turn cloud data into insights quickly, so your business can realize sales revenue, cost savings, and profits. And Dataiku's innovative approach to responsibly deploying and managing AI in the cloud enables enterprises to confidently put more AI into production, where business value is realized.
Creating an AI and Analytics Culture
Dataiku helps companies scale AI, ML, and analytics by enabling more of your skilled workers to participate in AI. Companies struggle to recruit and maintain expert data scientists and there aren't enough of them to support all the AI business use cases needed to transform an organization.
Companies have highly skilled business analysts, statisticians, engineers, and spreadsheet experts who could be adding value to their AI initiatives. Dataiku makes AI "spreadsheet simple" so you can upskill and scale teams to execute your data and analytics strategy. As a collaborative data science platform, it fosters a data and analytics-centric culture throughout the enterprise.
The visual platform allows teams to get up and running quickly with AI and ML, but it's also a complete coding environment for your expert data scientists. This best-of-both-worlds approach provides a collaborative platform that helps companies quickly scale data science and realize the benefits of AI and ML.
Dataiku scales technically as well, with innovative uses of cloud computing and services. It's the most scalable and efficient platform for training and deploying AI, leveraging all the leading edge cloud-native technologies without the complexity.
Simplifying AI for Better Efficiency
Let's face it. AI and ML in the cloud can be complex and expensive. But Dataiku does the same for AI and data science that similar SaaS applications have done for other business functions like HR, finance, and marketing. Dataiku systemizes AI processes and tools, manages cloud infrastructure, and automates critical tasks to reduce complexity.
The most beneficial thing about Dataiku is having everything in one place, so you don't have to go from one program to another and have them work all at the same time. Dataiku takes away that hassle."

- Ayca Kandur, Data Scientist @ Aviva
Dataiku fundamentally changes the economics of cloud AI. It makes data science more efficient by enabling broad reuse and capitalization of AI components. The platform removes tangible costs that can interfere with scaling AI in your enterprise. Dataiku lowers administrative overhead with a full complement of tools to make provisioning instances, upgrades, backup, and other administrative tasks easy.
In summary, Dataiku harnesses the power of the cloud to help any organization optimize data to improve business results dramatically. We are excited and honored to add the 2022 Forbes Cloud 100 honoree title to our virtual trophy case and additional recognition this year, such as the Forbes AI 50, Inc Best Workplaces, and the Data50.